U.S. stamp to honor space shuttle

January 5, 2000 — Icons of the '80s including the space shuttle, will be honored by the U.S. Postal Service with the introduction of 15 postage stamp designs on January 12, 2000. The Kennedy Space Center Visitor Complex in Florida will host a dedication ceremony for the stamps on their first day of issue.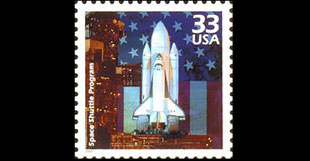 The stamps' subjects were selected during nationwide balloting in February 1999, which was part of the Postal Service's Celebrate The Century education program.

Celebrate The Century was created to honor some of the most significant people, places, events and trends of each decade of the passing century. Over a two-year period the public was offered opportunities to vote for stamp subjects honoring the 1950s through the 1990s.

Each decade-specific ballot listed a total of 30 topics in five categories: People & Events, Arts & Entertainment, Sports, Science & Technology, and Lifestyle. Two top choices in each category, along with the next five most popular overall were selected for a total of 15 stamps per ten-year period.

The "Space Shuttle Program" received 177,138 votes, winning over other Science & Technology subjects, such as "Personal Computers", "AIDS Awareness", "Compact Discs", "Cable TV", and "Gene Mapping".

The shuttle commemorative is described on the gummed side of the stamp as:

"Space shuttles have transformed U.S. space exploration. These reusable crafts can launch satellites and house labs for scientific experiments. Columbia, the first space shuttle, was launched April 12, 1981."

The official dedication ceremony for the 1980s stamps will be held at 9:30 a.m at the Kennedy Space Center Visitors' Complex Universe Theater. The release date was selected to coordinate with the launch of the Space Shuttle Endeavour originally scheduled for the next day (and is now scheduled for January 31). The ceremony is free and open to the public.

The "Celebrate The Century" series will conclude in April 2000 with stamps honoring the 1990s. The USPS recently unveiled the winning votes for this final-decade set, which include another space-related stamp: "Return To Space" will commemorate John Glenn's second flight at the age of 77.
back to News



© 2023 collectSPACE.com All rights reserved.
Questions? E-mail contact@collectspace.com