Space History News
space history and collectibles feature articles

Messages
discussion forums about space history and collecting

Sightings
calendar of worldwide astronaut appearances

Resources
collecting guides and selected space history documents




Section Two: Astronaut Artifacts
Tom Hanks' Signed and Personalized Space Media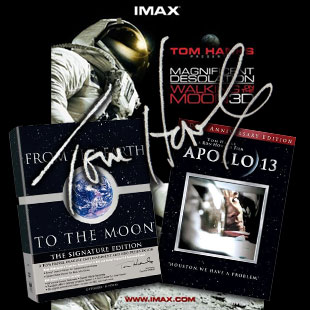 Academy Award-winning actor Tom Hanks enthusiasm for space exploration history is well documented. Beginning in 1995 and his starring role in the blockbuster film Apollo 13, Hanks has done more to promote the accomplishments of the United States' early space program than any person in or outside of Hollywood.

The winner of this lot will receive three items from Hanks' personal collection, each personalized and autographed as desired:
Apollo 13 DVD - Hanks portrays James Lovell


From The Earth To The Moon DVD set - Hanks produced this Emmy Award-winning miniseries and starred in its twelfth and final one-hour episode


Magnificent Desolation poster - Hanks produced, wrote and narrated this 3-D IMAX movie that put audiences on the Moon with the Apollo astronauts
The product images and signature illustrated above are for example only. Actual items may differ in appearance.
[ return to the auction catalog ]
© 2020 collectSPACE.com All rights reserved.
Questions? E-mail contact@collectspace.com