Jan | Feb | Mar | Apr | May | Jun
Jul | Aug | Sep | Oct | Nov | Dec
/ 12:15 a.m. CT (0515 GMT)



Vans x NASA
: Vans has launched a "cosmic tribute" to NASA's six decades of exploration and discovery in the form of a new collection of footwear and apparel. The Space Voyager line features high tops and skateboard shoes styled after spacesuits, jackets celebrating the Apollo moon landing and a duffel bag colored to match the space shuttle pressure garments. Vans' Space Voyager Collection landed Friday (Nov. 2) with unisex products for toddlers to adults.
/ 1:15 p.m. CT (1915 GMT)



Armstrong auction
: After two days and 700 items opened for bid, Heritage Auctions' sale of Neil Armstrong's collection brought in $5.2 million. Topping the auction was a spacecraft ID plate from the Apollo 11 lunar module that commanded nearly half a million dollars. Other lots blasting off included moon-flown pieces of the Wright Flyer, a larger than typical flown American flag and a Gemini-era flight suit worn by Armstrong. Two more Armstrong Family Collection sales are scheduled for May and November of next year.
/ 2:30 a.m. CT (0830 GMT)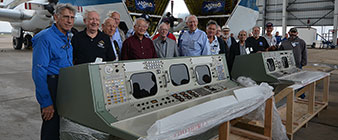 Restored and returned
: NASA's Apollo-era Mission Control restoration project reached a milestone Thursday (Nov. 8) with the first set of refurbished consoles returning to Houston on NASA's Super Guppy aircraft. The button and screen-lined cabinets spent the past ten months at the Cosmosphere in Kansas, being repaired and equipped with new internal electronics. A group of Apollo flight controllers were among the first to see the restored consoles.

© 2018 collectSPACE.com All rights reserved.