Behind every great space mission is a great flight control team.
Since Nov. 2, 2000, humans have been living in space continuously aboard the International Space Station. And for every hour of those 6,371 days and counting, a team of men and women on the ground have been watching over the space station's crews and systems from the Mission Control Center at NASA's Johnson Space Center in Houston.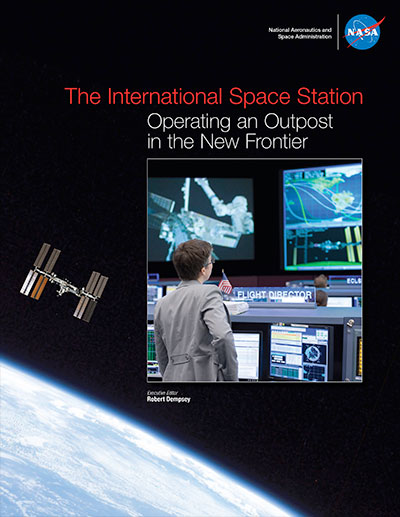 To capture that team's collective knowledge and explain the work they do, the flight directors who lead them have authored The International Space Station: Operating an Outpost in the New Frontier. Now available to download for free, the book offers an inside look at the time and energy the flight control teams in Houston devote to the development, planning and integration of a mission.
"I wanted to tell the story of the women and men who quietly work around the clock making human spaceflight a spectacular success from behind the scenes," said Flight Director Robert Dempsey, lead author and executive editor of the book.
Dempsey and his co-authors did this by splitting the book's 20 chapters into two categories. Ten "systems" chapters provide an overview of the key functional elements of the space station – the computers, communications and life support, to name a few. Each of these foundational chapters is followed by "Day in the Life" chapters devoted to detailing what flight controllers do – how they operate – at various points in a mission.
For example, Chapter 5, about "Command and Data Handling – The Brains of the International Space Station," is followed by Chapter 6, "'Brain Transplants' on the International Space Station," explaining what it takes to update the software of a spacecraft traveling 250 miles overhead.
"After working on the space station's computer systems for five years, I realized what it meant to be a 'rocket scientist,'" Dempsey said. "It's not about the technology but people who believed in teamwork, vigilance, responsibility and competence. That's what I hope people take away from reading this book."
The 400-page book brings together the collective knowledge of the 10 space station flight directors who authored it, drawing on their combined 45,000 hours of experience at the helm of Mission Control. In addition to Dempsey, they are Dina Contella, David Korth, Michael Lammers, Courtenay McMillan, Emily Nelson, Royce Renfrew, Brian Smith, Scott Stover and Ed Van Cise.