Robert Pearlman
Editor

Posts: 38987
From: Houston, TX
Registered: Nov 1999

posted 02-13-2018 03:59 PM




---
UK-based graphic designer Nick Harrison has created "Human Endeavour, a print that symbolizes humankind's achievements in aviation and space exploration." He is crowdfunding the hand-pulled screenprint's production on on Kickstarter.

The print, which features NASA's Shuttle Carrier Aircraft 905 and space shuttle Endeavour, is silkscreened using airframe aluminium ink giving it a metallic finish. "Human Endeavour" also includes its title in Morse code:
Why morse code?
I've been designing military aircraft prints over the last few years and morse code fits with the military theme. Also, aesthetically it works really well with the graphic style of the aircraft/spacecraft.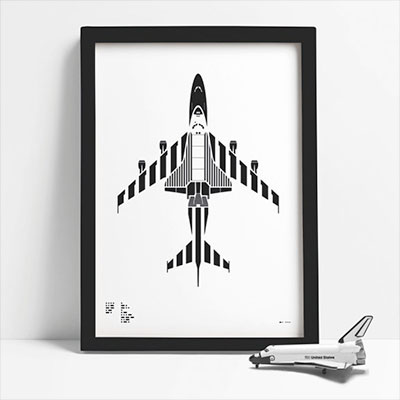 Robert Pearlman
Editor

Posts: 38987
From: Houston, TX
Registered: Nov 1999

posted 03-01-2018 12:12 AM




---
The Kickstarter campaign ended on Wednesday (Feb. 28).
58 backers pledged £2,068 to help bring this project to life.