Robert Pearlman
Editor

Posts: 28036
From: Houston, TX
Registered: Nov 1999

posted 10-27-2013 12:12 PM




---
collectSPACE
Neil Armstrong's lunar spacesuit lands on list of '101 Objects that Made America'

Astronaut Neil Armstrong's spacesuit rubs shoulders with Muhammad Ali's boxing robe, as well as Lewis and Clark's compass, Abraham Lincoln's top hat and Alexander Graham Bell's telephone in a new list of the 101 objects that tell the story of the United States.

Several artifacts from the nation's efforts to explore space are included on the list in Smithsonian Magazine's special issue, "101 Objects That Made America," which debuts on sale on Tuesday (Oct. 29). The list's contents were "drawn from the 137 million artifacts held by the 19 museums and research centers of the Smithsonian Institution," editor-in-chief, Michael Caruso, writes.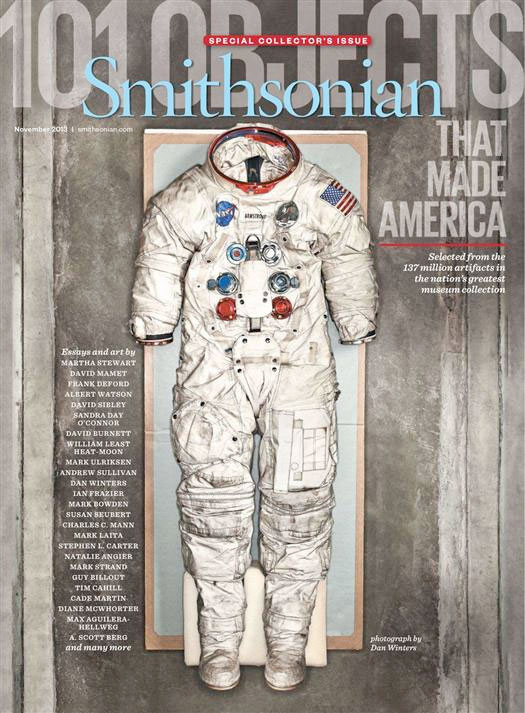 bwhite1976
Member

Posts: 173
From: belleville, IL USA
Registered: Jun 2011

posted 11-02-2013 07:50 AM




---
I found it interesting that instead of having an actual image of Discovery, there was instead a generic illustration of a space shuttle. Why do this?

The history and the significance of the these objects would seem to be best conveyed through actual pictures of them.

There were also several other objects on the list that had the same treatment. Maybe there is a technical reason or a publishing reason that is beyond me. Still a nice edition of the Smithsonian.