The work is finished at S.P. Korolev Rocket and Space Corporation Energia under the program of shooting footage for a new feature film "The Chief Designer" dedicated to the work of the Chief Designer of rocket and space systems, academician S.P. Korolev — the farther of space flight and the founder of the company.
In the course of the activities under this program that were completed on April 15-17 at RSC Energia, the scenes that were shot were those where S.P. Korolev supervises the construction of the first artificial Earth satellites and their pre-launch processing, the launch and the flight of Vostok spacecraft carrying our planet's spaceman Y.A. Gagarin, pre-flight preparations and the flight of Voskhod-2 with cosmonauts A. Leonov and P. Belyaev onboard, A.Leonov's spacewalk from that spacecraft and his return into the spacecraft, as well as other scenes depicting the hard work of the company's employees and their achievements in the development of new rocket and space technology.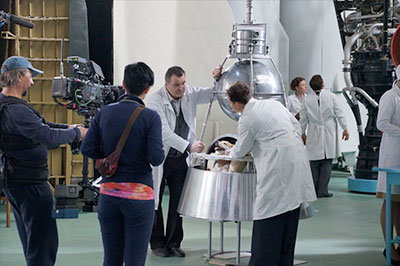 The filmmakers returned to filming at RSC Energia on April 26 after a break caused by the fact that they had to make a trip on April 19 through 24 to the Baikonur launch site (the time period when Progress M-19M was being processed and launched there) in order to shoot some footage reconstructing the launches of Korolev's R-7 rockets at the dawn of the space age.
The scenes that completed the program of filming at RSC Energia were those that depicted S.P. Korolev's meeting the employees of the Special Design Bureau No.1 and its subcontractors in the course of preparations for the launch of the first artificial Earth satellite, and sending off the first living being, the dog called Laika, to low Earth orbit onboard the second artificial Earth satellite.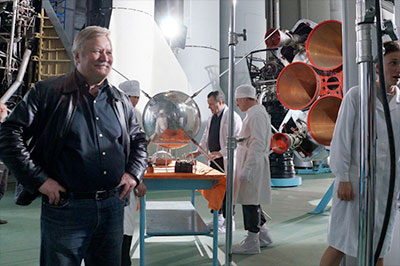 The film is being made by a team of filmmakers headed by a renowned film director, the author of the script, and the producer of the film Y.V. Kara.