Astronaut Mark Kelly has signed with Paula Wiseman Books, an imprint of Simon & Schuster Books for Young Readers, to publish
Mousetronaut: Based on a (Partially) True Story
, a picture book.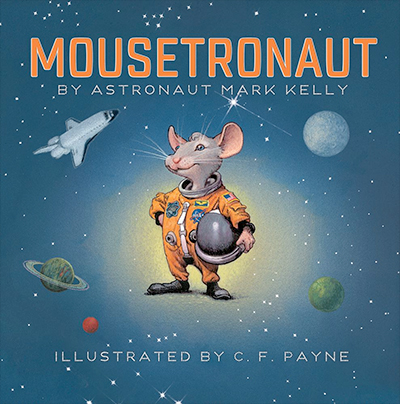 Mark Kelly was a captain in the U.S. Navy when he commanded the final mission of space shuttle Endeavour in May of 2011. A veteran of four space flights to the International Space Station, he is a graduate of the United States Merchant Marine Academy and holds a masters degree from the US Naval Postgraduate School. As a naval aviator, he flew 39 combat missions in Operation Desert Storm in 1991.
Kelly's first book, Gabby: A Story of Courage and Hope, was cowritten with his wife Gabrielle Giffords in collaboration with Jeffrey Zaslow and was a New York Times bestselling memoir
Mousetronaut will be published on October 9, 2012. This is the author's first picture book.
Astronaut Mark Kelly flew with "mice-tronauts" on his first spaceflight aboard space shuttle Endeavour in 2001. Mousetronaut tells the story of a small mouse that wants nothing more than to travel to outer space. The little mouse works as hard as the bigger mice to show readiness for the mission... and is chosen for the flight! While in space, the astronauts are busy with their mission when only the smallest member of the crew can save the day. With lively illustrations by award-winning artist C. F. Payne, Mousetronaut is a charming tale of perseverance, courage, and the importance of even the smallest creatures.
C. F. Payne has illustrated many books for children and is one of the most recognized names in illustration today. He has been awarded numerous Gold and Silver Medals by the Society of Illustrators and has had exhibitions of his work at Norman Rockwell Museum, the Cincinnati Art Museum and the National Portrait Gallery. Payne's children's books include The Remarkable Farkle McBride by John Lithgow and Late For School by Steve Martin.
Mark Kelly says, "After traveling in space over five million miles with these very small space explorers, I take great pleasure in telling their story. While astronauts get all of the credit, we are really just part of a larger (or in this case smaller) team."
"Mark Kelly's Mousetronaut makes the reader feel as if they are taking a thrilling ride into outer space," says Paula Wiseman. "It's a book that's easy to love."
The agreement was negotiated by Jon Anderson and Robert Barnett of Williams & Connolly LLP and includes audio rights. Paula Wiseman will edit the book.