cspg
Member

Posts: 4046
From: Geneva, Switzerland
Registered: May 2006

posted 11-22-2011 06:26 AM




---
Apogee Prime introduces New Horizons
, a new set of over 100 color posters (20" by 6.6") and two pre-painted models.
In 1999 author, editor and publisher Robert Godwin created the first ever seamless digital panoramas of the Apollo lunar surface photography.

"New Horizons" expands on that early work and introduces an entirely new perspective to the historic photographs taken during the Apollo moon walks.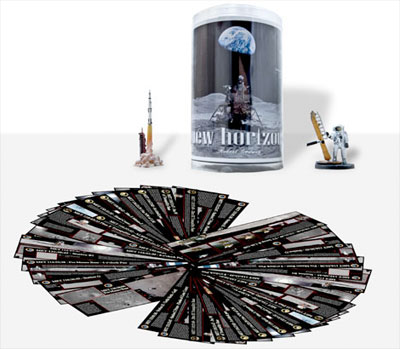 jjknap
Member

Posts: 114
From: Bourbonnais, IL USA
Registered: Apr 2011

posted 12-24-2011 08:33 PM




---
Just received this set as a Christmas present. All I can say is wow! How beautiful to see these panoramas reproduced as "mini-posters"!

The set also includes a DVD with the panoramas, but I haven't had a chance to view that yet... still working through the posters.

canyon42
Member

Posts: 170
From: Ohio
Registered: Mar 2006

posted 01-15-2012 05:10 PM




---
Got these a few days ago — a late Christmas present for myself, ha.

The "mini-posters" are great. I've only glanced briefly through them and then put them back in the plastic tube. They are printed on relatively thin paper and I'm afraid of getting the corners pinched and such. I'm going to keep them in there until I can get them all laminated or something.

The little models are cute. Nice enough, I guess, although I'm not sure why exactly they're in there. Same for the disc — it plays a selection of the panoramas with some classical music in the background. Nice, but it's a video format, so you can't select a particular file, or zoom into an image, or anything like that. Also, the resolution for the video is considerably less than the printed images.

Anyway, though, I got the set really only for the mini-posters, and they are pretty cool — definitely worth the cost of the set all by themselves. Can't say I have any idea what I'm actually going to DO with them, but I like 'em.