Robert Pearlman
Editor

Posts: 27327
From: Houston, TX
Registered: Nov 1999

posted 03-21-2011 09:17 AM




---
NASA Astronaut's Photography Manual
Hasselblad, whose cameras have been used in space since 1962, has added to its website its 1984 NASA Astronaut's Photography Manual (PDF). [via]
This Astronaut's Photography Manual has been prepared by Hasselblad in close cooperation with the Training and Man-Machine Divisions at the Johnson Space Center of the National Aeronautics and Space Administration. As a guidebook for the NASA Photography Training Program, it not only describes the operation of the Hasselblad 500 EL/M cameras used on the U. S. Space Shuttle but is also a concise manual on photography to assist astronauts in creating the best possible space photographs.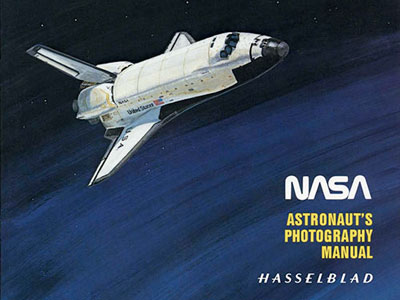 Fezman92
Member

Posts: 1030
From: New Jersey, USA
Registered: Mar 2010

posted 03-21-2011 09:52 AM




---
Is this manual still used or has it changed since the advent of digital photography?
Robert Pearlman
Editor

Posts: 27327
From: Houston, TX
Registered: Nov 1999

posted 03-21-2011 05:53 PM




---
Film and digital cameras are still used on the International Space Station, so it's not just the transition to DSLRs, but the camera models have changed, too.

At the time when this manual was written, NASA was using the Hasselblad 500 EL/M. The current model is the Hasselblad 203S.

(And of course, NASA and its partners do not only fly Hasselblad cameras. Nikon and Olympus cameras are also flown and used on the space station.)