Robert Pearlman
Editor

Posts: 27327
From: Houston, TX
Registered: Nov 1999

posted 02-26-2009 12:30 AM




---
The Upper Deck Company release
To commemorate the outstanding lineup of significant events that took place in '08, the Upper Deck Company is releasing a "Top 10" series of collectible insert cards entitled "Historic Firsts" which will be sprinkled inside its next baseball card set.

The "Historic Firsts" cards, inserted at a rate of 1:6 packs in Upper Deck's 2009 Series One Baseball release, will be hitting store shelves on February 3... notable achievements in the collection include... the "First Privately Developed Space Launch" (SpaceX Falcon 1).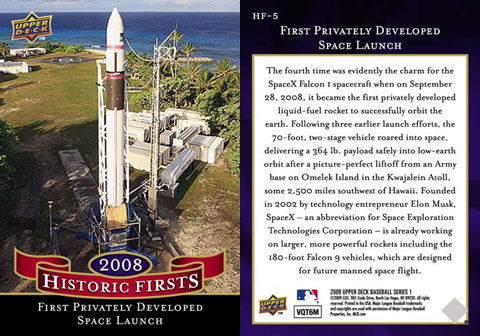 The SpaceX Falcon 1 card is the only space-related card in the Series One set.
Jay Chladek
Member

Posts: 2211
From: Bellevue, NE, USA
Registered: Aug 2007

posted 02-26-2009 10:42 PM




---
They should probably ammend that to first privately developed "Orbital" launch as Burt Rutan got Spaceship one to space before them and I know another team of high powered rocketry guys that flew a payload into space and recovered it a few months before Rutan did (and Rutan acknowledged it in a letter to the team that did it).

No disrespect to SpaceX though since the feat they did was outstanding.