Robert Pearlman
Editor

Posts: 27327
From: Houston, TX
Registered: Nov 1999

posted 02-08-2007 09:59 AM




---
Announced today per Spacecraft Films' website: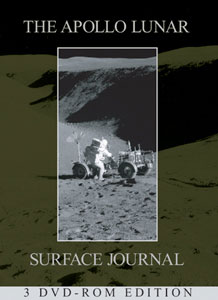 Spacecraft Films has announced the upcoming release of The Apollo Lunar Surface Journal on 3 DVD-ROMs, coming soon.
Edited by Dr. Eric Jones and Ken Glover, the Apollo Lunar Surface Journal is a record of the lunar surface operations conducted by the six pairs of astronauts who landed on the moon from 1969 through 1972. The ALSJ contains a corrected transcript of all recorded conversations between the lunar surface crews and Houston, including extensive interwoven commentary by the Editor and by ten of the twelve moonwalking astronauts.
Since the last publication of the Journal in 1999 (on CD), additions have included five years worth of new work on mission details, including photo essays on such subjects as the use of the LEC as a tether during Armstrong's trip down the ladder, Armstrong's flown suit, the Environmental Control System, the TV system, the surviving Lunar Landing Training Vehicle, and many others. This edition includes high-resolution scans from original film of all of the Hasselblad images taken on the Moon, and low-res reference versions of all of the video, plus a large collection of background documents.
nasamad
Member

Posts: 1890
From: Essex, UK
Registered: Jul 2001

posted 02-08-2007 12:27 PM




---
This is brilliant news, the internet's best Apollo history archive available in this format. I can't wait.
nasamad
Member

Posts: 1890
From: Essex, UK
Registered: Jul 2001

posted 08-04-2007 07:20 AM




---
I received my copy yesterday, I can finally stop having to download all the media files from the net version and have them all on disc at the ready instead.

The final flaw in the journal is now gone, the speed of my internet connection!