posted 05-10-2006 08:40 AM




---
Overview of Orbiter and its add-ons:

Orbiter is a realistic and accurate simulation of orbital and atmospheric physics. It is written by Dr. Martin Schweiger of London England. It a general purpose simulation in which you can setup nearly scenario you want in the Solar System or even a custom built solar system.

Most this configuration is accomplished through text files editable in Notepad. Orbiter physic engine also has an emphasis on visual beauty. High Resolution Textures, Clouds, Shadows, Sun glare, Atmospheric Shading are all supported in Orbiter.

Orbiter comes with the space shuttle, and a set of high powered spacecraft that while don't exist are plausible. The Deltaglider is similar to the Space Shuttle, the Shuttle-A is designed for use in traveling in space, and the Dragonfly is a space tug for orbital work. All three support cockpits with switches and system. Orbiter supports add-on spacecrafts, modules, and planets through the use of text config file and/or a C++ programming API.

Downloads are divided into a Base Package, a Software Development Kit package, and series of high resolution planetary textures for our solar System. The software is free to download and use for non-commerical purposes. The most comprehensive site for Orbiter Add-ons is here.

I am the maintainer and a developer of Project Mercury for Orbiter and the Project Gemini for Orbiter add-ons. In addition I support the development of Project Apollo for Orbiter (NASSP).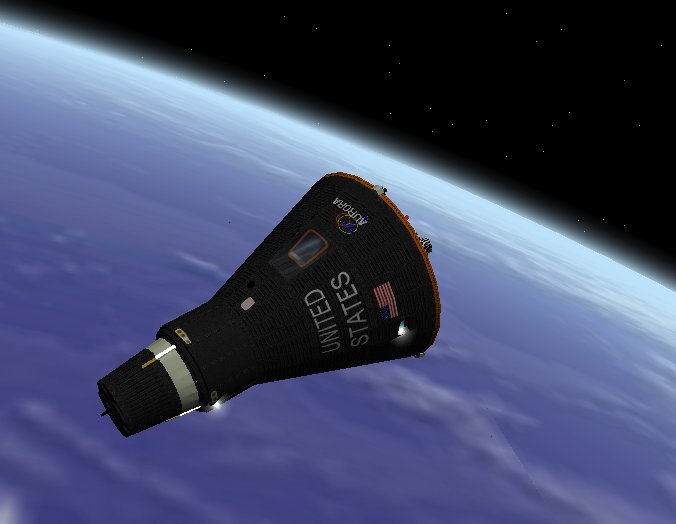 The goal of these add-ons is to create a highly accurate simulation of the historical NASA spacecraft of the 1960s. This includes setting up every switch, dial, and knob to work as they did in the original NASA craft. The ultimate goal is that you could use the historical flight documentation to fly the original flight themselves or create your own missions.
Currently Project Mercury for Orbiter is the most complete simulation of the three. Project Apollo for Orbiter is in the middle of a massive update that will see nearly every panel and system working. This includes a simulation of the CSM and LEM Guidance Computers running the actual code that was used during Project Apollo. Project Gemini is being updated to the level of the first two project. These three are open-source projects with the source code available for anybody to look underneath the hood or to improve.
Also recommended is Earth 1962 which setup up an alternative Earth for Orbiter that mimics the state of rocket facilities as they were in the 1960's.
There another Project Apollo called ASMO that add-on has the same physical parameters as the NASSP version but used the orbiter controls to fly the spacecraft. This makes it considerably easier to fly the craft for the novice.
I recommend you fly the more sophisticated add-ons in the same order that NASA flew them; Mercury, Gemini, and Apollo. The Mercury capsule can run any part of the mission automatically leaving it to you to decide when to take over control. Gemini and Apollo add-ons will fly into orbit automatically but they are much more hand-ons once you are there. Apollo is considerably more complex than Gemini. Gemini will allow you to practice maneuvering in orbit, rendezvous, and docking.
All of these add-ons come with extensive documentation, along with links to historical document.