Robert Pearlman
Editor

Posts: 42981
From: Houston, TX
Registered: Nov 1999

posted 09-23-2005 11:46 AM




---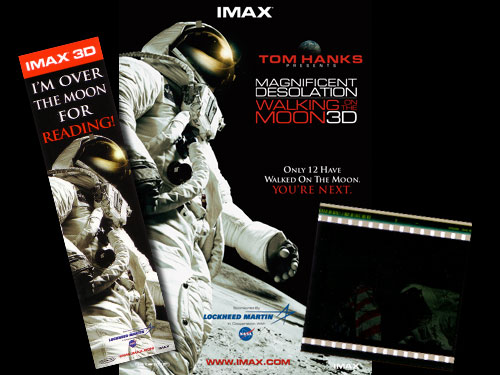 To celebrate the release of Magnificent Desolation: Walking On The Moon 3D, collectSPACE is giving away 40 Magnificent prize packages that include:
Magnificent Desolation mini-movie poster (approx. 13" x 19")
Magnificent Desolation collectible bookmark
an actual frame of IMAX 3D film cut from a film reel of Magnificent Desolation!
To qualify to receive a set for yourself, simply answer the following five trivia questions and e-mail the answers to challenge@collectspace.com before 11:59 p.m. CDT September 30 (0459 GMT 01 October). All correct entries received will be entered in a drawing from which 40 winners will be selected. Please be sure to include your full name and mailing address with your entry. Limited to one entry per family.

Here are the questions (HINT! All the answers can be found on collectSPACE):
Before Magnificent Desolation, Tom Hanks was involved in two other Apollo-themed projects. Name them.
In Magnificent Desolation, what actor voices the words of Neil Armstrong?
The Lunar Module and Lunar Roving Vehicle seen in Magnificent Desolation was borrowed from a museum. Name it.
Name the moonwalker who served as technical consultant for Magnificent Desolation.
The world premiere of Magnificent Desolation was held on September 21 in Washington, DC. Where was it held?
REMEMBER, e-mail your answers to challenge@collectspace.com. Do not post them as a response here!

(Note about prize delivery: Though the prize items are safe from any damage, delivery of the prize packages to winners may be delayed depending on the effects of Hurricane Rita on the Houston, Texas area. Winners will be updated by e-mail as to when to expect their items.)
Robert Pearlman
Editor

Posts: 42981
From: Houston, TX
Registered: Nov 1999

posted 10-02-2005 06:43 PM




---
Congratulations to the 40 winners of our "Magnificent Desolation" trivia giveaway. They were selected from the many entrants that gave the following correct answers to the questions posed in the previous post:
Apollo 13 and From The Earth To The Moon
Morgan Freeman
Kansas Cosmosphere and Space Center
Apollo 15 commander David Scott
National Air and Space Museum
Their prizes will be mailed to them over the next week.

Joe Ahearn
Brent Auernheimer
Justin Bartel
Jeff Bassett
Jeff Berkwits
James Bilbrey
Jurg Bolli
Noah Bradley
Heiskell Christmas
Ted Clifford
Peter Dettelis
Matt Fante
John Farine
Marcy Frumker
John Fuqua
Timothy Gagnon
Aubrey Grogan
Darnell Hester
Randy Hilt
Daryl Katauskas
Noah Kelso
Mark Janovec
Chuck Johnson
Garry Laing
Dennis Lee
Bill Little
Robert McCullough
Scott Miller
John Missry
Jeff Parker
Cesar Ponce
David Richards
Bobby Slice
Howard Sullivan
Neil Teitelman
Daniel Weston
Oliver Wolf
Peter Wozniak
John Youskauskas
Robert Yowell

Thank you to all who participated and good luck in our next giveaway!
Rob Joyner
Member

Posts: 1308
From: GA, USA
Registered: Jan 2004

posted 10-04-2005 11:49 PM




---
Robert, do you have the numbers available of how many total entries there were and how many had all answers correct? This was a great contest! I hope there will be more in the future and often. Thanks!
Robert Pearlman
Editor

Posts: 42981
From: Houston, TX
Registered: Nov 1999

posted 10-06-2005 05:31 PM




---
Rob, I'm glad to hear you enjoyed the contest and sorry that you weren't among the winners. With the exception of only one entry, everyone who submitted answered correctly (the trivia wasn't intended to be difficult). The winners were selected at random from all the correct replies received.