Robert Pearlman
Editor

Posts: 27327
From: Houston, TX
Registered: Nov 1999

posted 02-07-2005 02:23 AM




---
Alex Panchenko of USSR-AirSpace.com has forwarded news that he is now offering a series of prints (limited to 500 each) that are of the artwork of five-time cosmonaut Vladimir Dzhanibekov. A set of these prints, which depict Dzhanibekov's life and work aboard Salyut 7, were recently hung inside the International Space Station.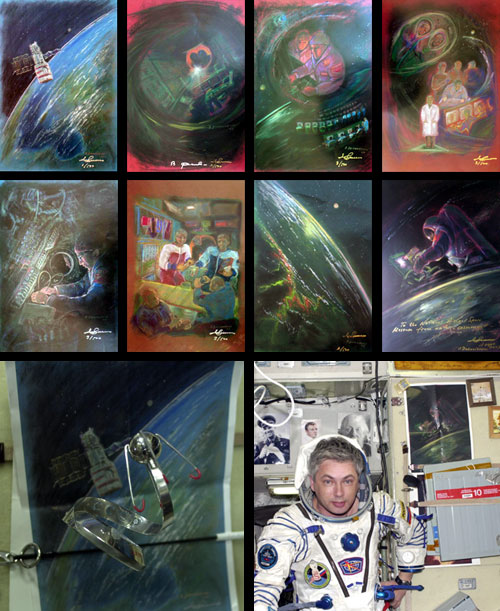 Seven of these prints together tell the story of the hard and dangerous work conducted by Dzhanibekov and his Soyuz T-13 crewmate Viktor Savinykh (and are as well signed by both) repairing the crippled Salyut 7 station after eight months of power-less vacancy. The two entered the all-but-dead outpost after performing a risky manual docking to discover a frozen, almost unbreathable atmopshere. Several days work, including a five hour spacewalk were necessary to bring Salyut 7 back to a condition that it could support a crew.
For more information, see this page on USSR-AirSpace.com.
The eighth print captures a milestone on Dzhanibekov's earlier Soyuz T-12 mission to Salyut 7: the first EVA by a woman, namely Svetlana Savitskaya. The art depicts Savitskaya working on a welding experiment outside the station, set against the curvature of the Earth below.
For more information about this print, see this page on USSR-AirSpace.com.
Each print measure 11.5 by 16 inches. They are available for order now.