The Astronaut Scholarship Foundation (ASF) has released an autographed print for the 40th anniversary of Gemini XII, the final mission of NASA's second manned space program.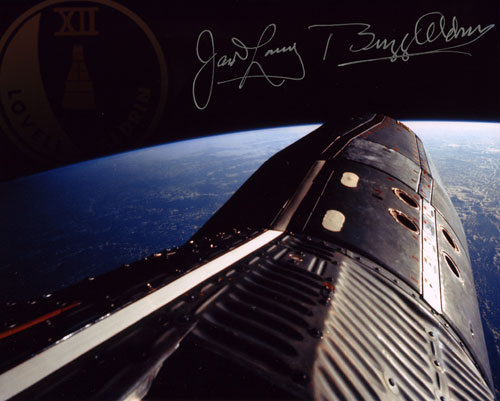 Launched on November 11, 1966 from Pad 19 at Cape Canaveral, Florida, Gemini XII was commanded by James Lovell and piloted by Buzz Aldrin. The four-day mission demonstrated mastery of the skills needed to send astronauts to the Moon, including rendezvous and space walking.
The Foundation's limited edition 8-by-10 inch print was authentically signed by both Gemini XII crew members. Depicting their spacecraft in Earth orbit as photographed by Aldrin during his spacewalk, the image also incorporates the mission's insignia subtlety ghosted over the horizon.
The ASF is offering the Gemini XII 40th Anniversary print for $295 ($370 framed). They are individually numbered and accompanied by an certificate of authenticity.
For more information, or to order, click here.