posted 03-03-2003 01:12 PM




---
Hello everyone!

I went to "An Evening With John Glenn" at the Chabot in Oakland, CA last night.

There, I met a man who worked for North American/Downey as a test pilot. When NA got the contract for Apollo, this man became a simulator tester. As he describes it, he was one of 5 pilots who tested out procedures in the simulators when Astronauts weren't available.

During his career, this man probably met all the Astronauts in the Apollo, Skylab, and Apollo-Soyuz programs.

He had with him a 1st edition copy of "We Seven" in pretty good shape. The page edges looked a little worn, and the dust jacket has seen better days, but the spine and cover were almost like new. But here's the cool part; it was signed by:

Don Lind
Alan B Shepard, Jr.
Charles Conrad, Jr.
Dick Gordon
Dave Scott
Donn Eisele
Walter Cunningham
Roger B. Chaffee
Wally Schirra
Ed White
Gus Grissom
John Young
Ron Evans
Tom Stafford
Bill Pogue
Paul Weitz
Michael Collins
James Lovell
Frank Borman
Neil Armstrong
Buzz Aldrin
Alan L Bean
Vance Brand
Al Worden
Joe Kerwon
Joe Engle
Ken Mattingly
Rusty Schweickart
(and now John Glenn)

on one page, and on the classic picture of the Mercury 7 in their silver suits:

Deke Slayton
Gordon Cooper
Gus Grissom
Alan Shepard
Wally Schirra
(and now John Glenn)

This man was able to get John Glenn to add his signature to the book in 2 places.

This nice fellow thought that maybe the book was worth $500

Eep.

Myself and another listmember informed him that he should keep the book in a safe place because it is worth a LOT more than that.

He is not interested in selling, but was curious about how much this item was worth.

Anyone care to estimate it's worth?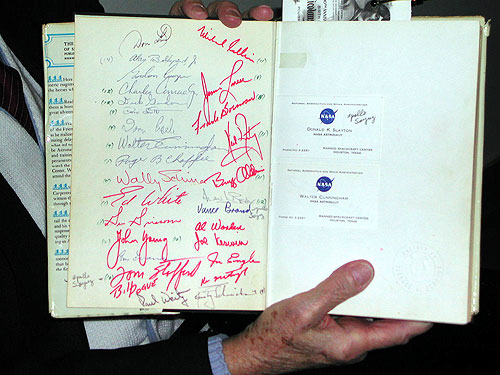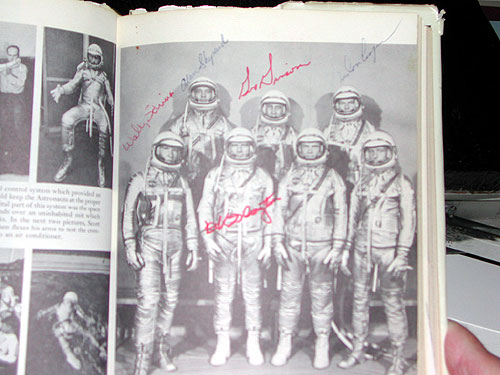 [This message has been edited by collectSPACE Admin (edited March 03, 2003).]