eurospace
Member

Posts: 2467
From: Brussels, Belgium
Registered: Dec 2000

posted 09-15-2005 12:55 PM




---
During my recent journey through Southern Poland, Northern Slovakia and the Czech Republic, I had the opportunity to pass by the village of Vysoka nad Kysucou. This village is located in a remote mountaineous region in the Northwest of the Slovak Republic, a few miles from the border to the Czech Republic.

What is space related about this forlorn long village alongside the main road passing through the Kysucou valley? Well, Gene Cernan's ancestors stem from the area.

In the town hall, the municipal administration has set up a commemorative room for their village's most famous son. There is a commemorative plaque on the front of the town hall building, but else there is little else that points to the place. I went up to the first floor, talked to the next person in an office I found, and tried to express my wish. No English, no German. Of course, no Slovak from my side. So I just said "Sala Cernan, astronaut, prosim", pronouncing "Cernan" as a Slovak would, with a "tch" at the start. "Cernan" means "Black", probably pointing to the namebearer's hair color, a profession or any other typical sign of the first "Cernan".

That made the man understand — he went to fetch a key, and opened an unsuspicious white door for me, not far from his office. It looks like a meeting room, and three of the four walls are decorated with images and illustrations referring to the Last Man on the Moon. There are photographs of typical scenes of the country, there are clippings and statements on Cernan's missions, there is a large classical representation of the solar system, and there is a wooden crib - probably just a period item. No moon rock to be found.

Now what is the family history behind it? One of the plates gives the background: A couple by the name of Stefan and Anna (born Lucanová) Cernan emigrated from Vysoká nad Kysucou to Chicago, Illinois, in 1903. To them, in 1907, a son by the name of Andrew/Andrej was born. Andrew married Rozalia (born Chilárova) who had her origins in the Czech city of Tabor. To them, a small son by the name of Eugene, and a daughter by the name of Dolores was born. Eugene, who is, as we guess by now, the famous Moon Walker, married his wife Barbara (born Atchley) in Houston, Texas. Their daughter Therese was born on 4 March 1963.

I am unaware whether Cernan ever visited the area from which his grandfather came from. I couldn't see any reference to it, but it might be my oversight.

Many thanks to collectSPACE member Lubos Ryban from Bratislava, who was most helpful in pointing me to the right direction and to assisting me with explanations and maps.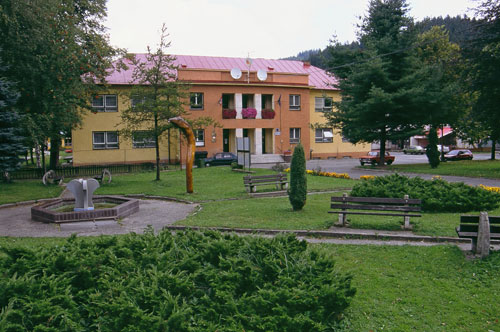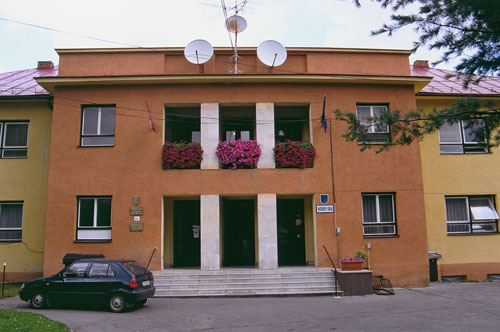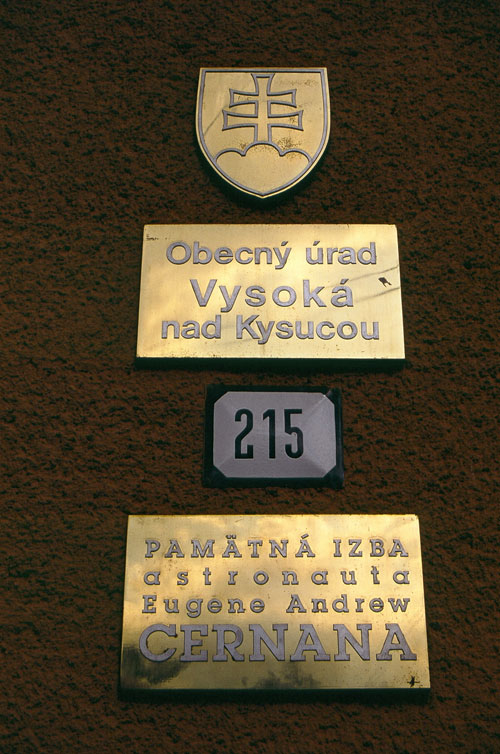 dss65
Member

Posts: 983
From: Sandpoint, ID, USA
Registered: Mar 2003

posted 09-15-2005 09:04 PM




---
I would also like to thank you, Jurgen, for sharing your story and beautiful photos. It's a very nice coincidence for me that this has shown up right now on the board, as I am currently re-reading and greatly enjoying Cernan's book. It sure is a lot more meaningful for me now, after having had the chance to meet him and speak to him — even if ever so briefly — at the show in Burbank.

Your post is, to me, a wonderful reminder of how deep our roots lie. Cernan, in his own way, has touched the lives of a lot of people, and I'm glad I had the chance to tell him how he touched mine.