holcombeyates
Member

Posts: 77
From: UK
Registered: Dec 2010

posted 01-04-2016 10:01 AM



---
This picture was taken in May 2011 at the Apollo Vault (adjacent to the Saturn V) in the Apollo-Saturn V Center at Kennedy Space Center. In fact, this picture was one of the main reasons that I started a (very small) collection of flown Apollo hardware.

Both pieces appear to be from Apollo 16. I don't remember there being a description against these items, hence this post.

Does anyone know which mission and surface EVA these came from? Are they still on display at KSC?

I heard that John Young's EVA cuff checklist was sold privately recently and I note that the penlight is of an unusual two tone colour and also has a small tubular piece of metal welded to it which is quite unconventional (when compared to similar items at auction). John Young's penlight (believed to be lunar flown and in poor condition) sold at a Heritage Auction in November 2015. Could this be Charlie Duke's penlight and why the unusual modification?

Any info on these pieces would be welcome.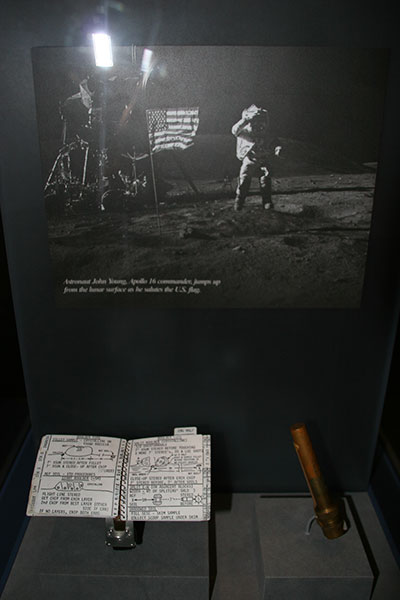 Robert Pearlman
Editor

Posts: 33734
From: Houston, TX
Registered: Nov 1999

posted 01-04-2016 11:07 AM




---
It would appear the cuff checklist is Young's from EVA 1 on Apollo 16. You can see the inscription printed along the inner margin of the pages ("3/20/72 EVA 1 CDR 44/45").

Young's EVA 2/3 cuff checklist is property of the Smithsonian.
space1
Member

Posts: 672
From: Danville, Ohio, USA
Registered: Dec 2002

posted 01-04-2016 02:35 PM




---
I don't have an explanation for the two tones of the penlight. But could the strip of metal behind the penlight simply be part of the display supporting it?