Robert Pearlman
Editor

Posts: 29439
From: Houston, TX
Registered: Nov 1999

posted 04-16-2014 12:23 PM




---
The Daily Breeze reports that Hawthorne, California has unveiled a towering monument of a rocket on the city's main roadway to honor its most celebrated corporate citizen — the space transportation company SpaceX.
Erected on Hawthorne Boulevard just south of El Segundo Boulevard, the monument is a 25-foot replica of a Falcon Heavy, the world's most powerful rocket. Resting at a 45-degree angle on a thick support column, the tip of the rocket reaches 37 feet at its highest point.

At night the rocket is backlit by 27 red LED lights emulating thrusters. A light in the front casts a green glow onto the monument, which weighs a hefty two tons. At the tip of the Heavy lift is the Dragon capsule that has carried cargo to the International Space Station.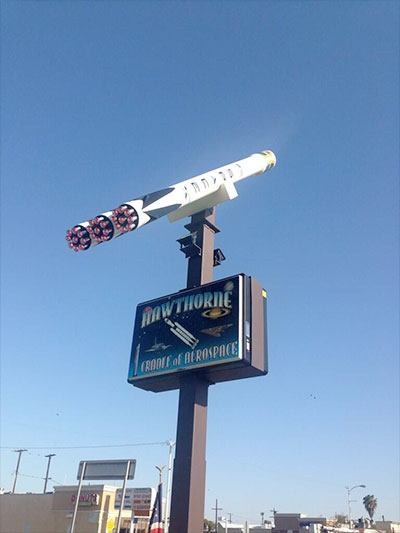 Photo credit: Hawthorne @MayorChrisBrown