Mission Operations director Paul Hill, NASA Administrator Charles Bolden and Johnson Space Center director Ellen Ochoa met with the media on Thursday (April 10) inside the newly renovated and historic "Blue" and "White" flight control rooms (FCR), which will be used to support the International Space Station and Orion spacecraft.
The mission patches that adorn the walls reflect the control rooms' previous use in the space shuttle and space station programs.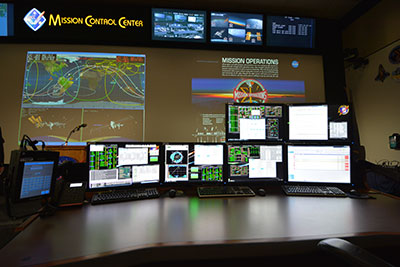 Space station flight controllers will temporarily move into the White FCR this fall for several months as the program's FCR is similarly upgraded. White FCR will then become the primary control room for NASA's Orion missions.
Orion's first mission, Exploration Flight Test-1 (EFT-1) scheduled for December 2014, will be controlled out of Blue FCR, the first room to receive the "MCC-21" modifications.
On Thursday, the EFT-1 controllers were running a simulation for the mission, which will send the uncrewed Orion 3,600 miles above the Earth for a two-orbit flight providing engineers the chance to verify the spacecraft's design and test some of the systems most critical for the safety of the astronauts who will fly on it in the future.