Robert Pearlman
Editor

Posts: 30033
From: Houston, TX
Registered: Nov 1999

posted 06-13-2013 11:28 AM




---
collectSPACE
NASA visitor centers launch new passport for space tourists

Earth-bound space tourists hitting the road this summer to tour NASA's historic launch pads and mission controls, as well as see the retired space shuttles on display now have their own passport.

The "Passport to Explore Space" is now being offered by the official visitor centers for NASA's nationwide facilities and the museums that display the space agency's former orbiter fleet. Guests to the 14 locations in nine states can get the passports stamped with commemorative markers representing each of the centers, earning them offers and discounts in the process.

"Get ready to explore and experience NASA's universe of diverse visitor centers and the museums which house America's four space shuttles!" promotes VisitNASA.com, the website for the "Passport to Explore Space" program and NASA's tourist attractions. "Your mission is to visit all 14 visitor centers and space shuttle locations."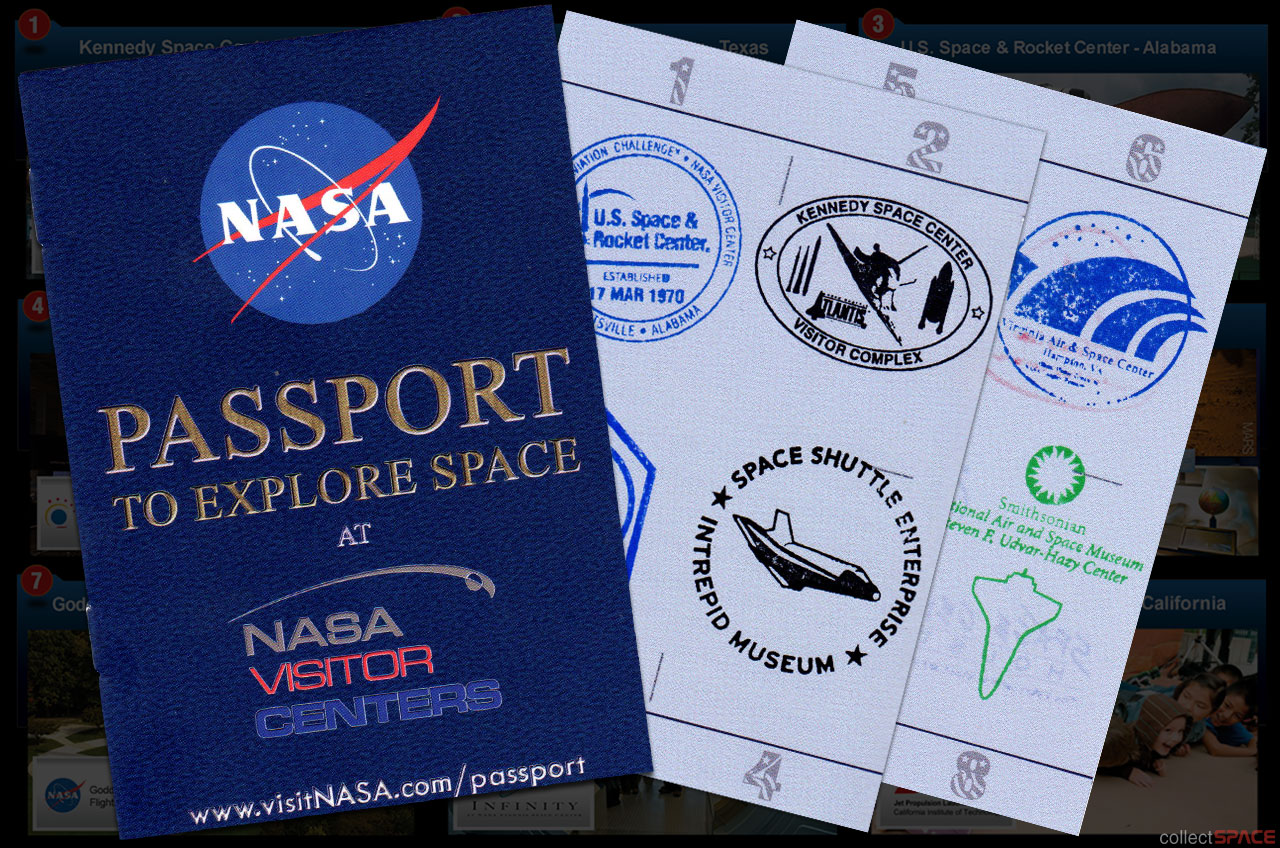 Hart Sastrowardoyo
Member

Posts: 2500
From: Toms River, NJ
Registered: Aug 2000

posted 07-20-2014 09:28 PM




---
FINALLY got mine, after signing up and forgetting to bring the confirmation email with me to Udvar-Hazy and Intrepid earlier this year. I tried getting one at the Intrepid earlier, but they will not give one out without the email.

If you go to Intrepid - there's some confusion as to what they are and where they're available. The answer, as of this past weekend, is that they're at the box office (e.g., where you buy admission tickets) and so is the stamp.

There are 14 numbered spaces, two unnumbered for 16 total. However, like a real passport they place the stamp at a random spot - in my case No. 3 - although I did receive a nice, clear ink impression.

Any discounts, if they exist, are not publicized. So look at this like a fun thing, like getting stamps at the EPCOT pavilions.

Anybody else who has one of these, please post where to get stamped. Prior to this weekend, they had me going from the info desk to back where the space exhibits are displayed on Intrepid to ask someone. The logical assumption would be the box office, but like the National Park Stamps, one never knows.

Next stops: KSC and Udvar-Hazy. Go to figure in a trip to Goddard, Wallops and Virginia Air & Space somehow....