SpaceAholic
Member

Posts: 4437
From: Sierra Vista, Arizona
Registered: Nov 1999

posted 10-10-2012 11:00 PM




---
From an eBay auction for a postcard, the S-1C exhibit at the 1964 New York World's Fair — had no idea there was such a display (does it still exist?)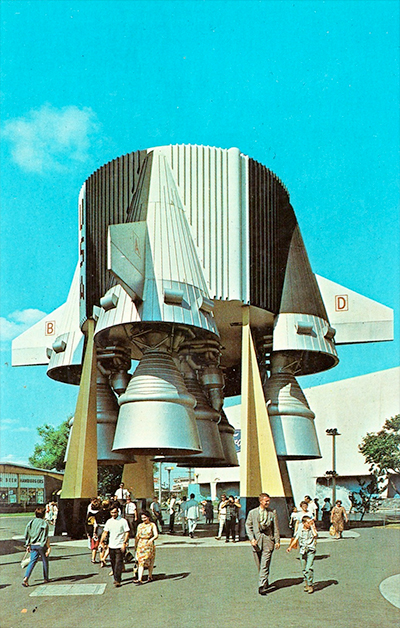 Robert Pearlman
Editor

Posts: 42988
From: Houston, TX
Registered: Nov 1999

posted 10-11-2012 05:33 AM




---
From an extensive article about the World's Fair by Jeffrey Stanton:
America's infatuation with the Space Age was apparent at the Fair. A might array of rockets were on exhibit in the two-acre United States Space Park that was sponsored by NASA, the Defense Department and the Fair itself. The Park's exhibits included a full-scale model of the first stage (bottom stage) of the colossal Saturn V "moon rocket," a Titan II booster with its two-man Gemini capsule, and an Atlas with its Mercury capsule. At ground level, ready for the visitor's inspection, were the Mercury capsule flown on the second American manned orbital flight, and full scale models of the three-man Apollo Command and Service modules, and the Lunar Excursion Model. Unmanned spacecraft shown were replica lunar Rangers and Surveyors, a Mariner II Venus probe, Syncom, Telstar, Relay and Echo communications satellites, Explorer and Discoverer research satellites, and Tiros and Nimbus weather satellites.
The New York Hall of Science now stands on the site of the Fair, and includes part of the Space Park, including the Mercury-Atlas, Gemini-Titan and an F-1 engine:
Visitors get a rare chance to explore some of the rockets and spacecraft that helped initiate the space race. These vehicles were state-of-the-art space exploring machines at the time of the 1964-65 New York World's Fair, which was held on the site of NYSCI.
The S-IC exhibit stood until 2001 (you can see it in the background of the scenes shot at the site for the original "Men in Black" movie released in 1997). It didn't age well, and only the engines were salvageable when restoration work began for the Hall of Science's current Rocket Park.

The rockets and engines were trucked to Akron, Ohio, where Paul Thomarios, who led the restoration of the Saturn V at Kennedy Space Center, restored them to their current condition.
Murph
Member

Posts: 108
From: New York, NY USA
Registered: Jan 2005

posted 10-11-2012 12:53 PM




---
I grew up near there. The Saturn V was a wooden mock up and we watched it slowly come apart over the decades, until one day the renovation of the Space Park started and the mock up was demolished.

The rockets were removed from the park twice if I remember correctly. They were once loaned to a Japan display of some sort and after they were returned, years later, they were later removed for renovation. I still visit the hall sometimes the two rockets, an engine and a capsule mock up are all that's left.