Grand Turk Cruise Center and the community of Grand Turk, Turks and Caicos Islands celebrated the grand opening of a unique exhibit commemorating the National Aeronautics and Space Administration's (NASA) Mercury space program and the historic 1962 splashdown of the Friendship 7 capsule off the coast of Grand Turk.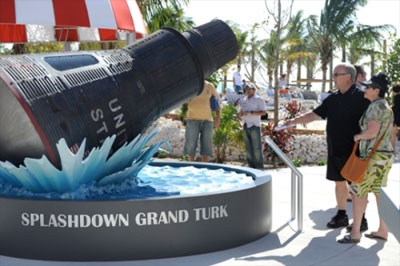 The event was attended by representatives of the Turks and Caicos Islands Government, students from local schools, representatives from Carnival Corporation and plc and Grand Turk Cruise Center, and guests and crew from Holland America Line's cruise ship, the Nieuw Amsterdam and Princess Cruises' Ruby Princess which were in port that day.
Special guest speakers included Janet E. Petro, deputy director of the John F. Kennedy Space Center and former NASA astronaut Winston Scott.
"Splashdown Grand Turk" is a 3,500 sq. foot attraction celebrating the unique relationship of the American human spaceflight mission and its importance to Grand Turk's history.
Located on the south side of the Grand Turk Cruise Center, the free exhibit features amazing replicas unique to the Mercury space program, including a scaled 20-foot-tall Atlas rocket and a full-size, three-dimensional replica of astronaut John Glenn in spacesuit, and, of course, a detailed replica of the Friendship 7 capsule, which splashed into the Atlantic in 1962, a few short miles from the island of Grand Turk.
Storyboards at the exhibit depict the accomplishments of the NASA space program and detail the differences in space equipment of yesterday and today while offering an overview of the current space program and future plans.
"This exhibit together with the replica of the Friendship capsule at the entrance of the Grand Turk Airport will serve to educate and inform cruise guests, the citizens of Turks and Caicos and other visitors to the islands about this fascinating connection between Grand Turk and the early days of the Mercury space program," said H.E. Governor Gordon Wetherell, governor of the Turks & Caicos Islands, BWI.
"We believe that having this great exhibit at the Grand Turk Cruise Center not only pays homage to the remarkable history of the NASA space program, but also shows the historical richness of the island," said David Candib, director of business development for Carnival Corporation and plc, which operates the Grand Turk Cruise Center.
Opened by Carnival Corporation & plc in 2006, the Grand Turk Cruise Center serves as a gateway to this unique destination and encompasses a state-of-the-art pier and a 14-acre complex offering a variety of shops and restaurants.
The 2011 cruise season will bring 285 ship calls to the Grand Turk Cruise Center carrying approximately 625,000 visitors who will have an opportunity to learn more about Grand Turk's involvement with the NASA space program.