The Air Force Space & Missile History Center near the Cape Canaveral Air Force Station South Gate was renamed the
Sands Space History Center
during an official ceremony today in the history center's main hall.
The 45th Space Wing and the Air Force Space & Missile Museum Foundation hosted the ceremony in honor of retired Air Force Maj. Gen. Harry James Sands Jr, whose work and perseverance laid the groundwork for the history center.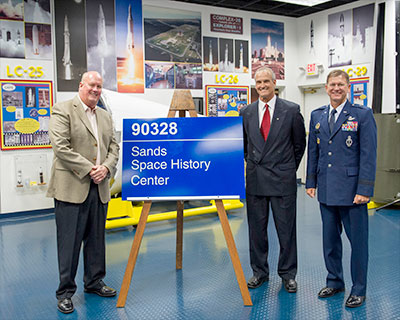 "General Sands didn't just verbally champion this cause throughout his career, but he embodied it," said Brig. Gen. Wayne Monteith, 45th Space Wing commander. "His passion for preserving and sharing our history with the public was unmatched by any other."
Sands started his distinguished military career in 1939 as a command pilot before transitioning in 1945 to help start the missile development program. His association with Patrick AFB began in 1953 when he was appointed Headquarters Air Force Missile Test Center's deputy for operations.
In 1961, he proposed the idea of creating a museum dedicated to the Air Force's space history at Cape Canaveral Air Force Station. After being appointed the museum's foundation chairman in 1963, Sands assembled a team from the range community affairs office. But lack of funding, coupled with donations of poorly-conditioned large artifacts, forced him to scale back his plans.
Sands, dedicated to preserving these priceless artifacts, persevered. He understood the importance of outside funding and was able to secure $4 million in fundraising in just nine months to build a center outside of the entrance to Cape Canaveral AFS. This was on top of actively volunteering to give briefings and tours to hundreds of visitors.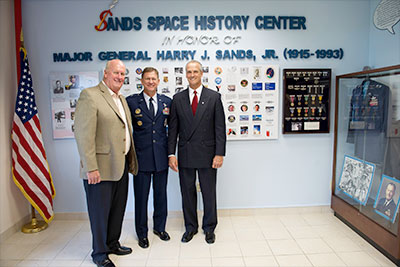 Although Sands passed away in 1993, his passion and determination created a legacy that continued to garnish support for the museum, Monteith said.
"General Sands had a strong vision of what this place could be and his vision continues to grow through the minds and actions of each member supporting this history center today," he said.
In 2010, Sands' hard work became a reality when the center opened on August 13 at its present location outside the main gate. On Aug. 19, 2015, approval was granted to rename the center to the Sands Space History Center.
Sands' two sons, Pat and Ray, were guest speakers at the ceremony and shared their father's legacy that encompassed more than his storied dedication to developing and preserving everything the Eastern Range and history center has become today. Pat recounted how his father was "truly, truly, one of a kind," while Ray said the general was "one of those leaders that the entire base lined the streets for to say goodbye."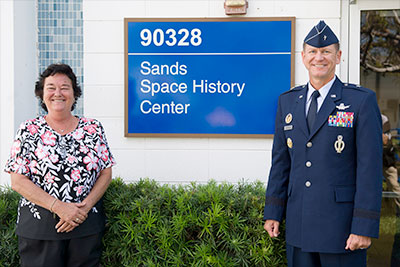 Monteith and Sands' sons also thanked the history center staff for their remarkable efforts and unwavering commitment to ensuring the ceremony occurred on what would have been Sands' 101st birthday.
"This team is so good even a hurricane couldn't stop it," said Monteith.
The renaming of the museum comes only one week after Hurricane Matthew produced peak winds of 139 mph winds at Cape Canaveral AFS. Hurricane Matthew damaged several facilities and displays, including the Navaho static display at the entrance to the center's parking lot.
The history center won the Air Force Space Command Heritage Award in 2010 for outstanding commitment to building a better understanding and appreciation for the Air Force. In the past four years, the center had over 33,000 visitors.