Students in The University of Texas Arlington College of Engineering have a new source of inspiration in their daily walks at Nedderman Hall.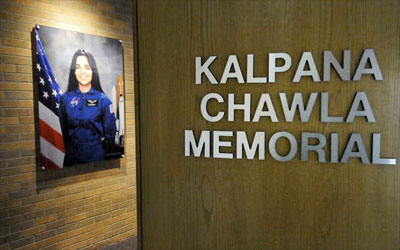 Credit: Star-Telegram.com
A Kalpana Chawla Display was dedicated May 3 in Nedderman Hall. Chawla is one of the University's most celebrated graduates. She was aboard the Columbia Space Shuttle when it broke apart during re-entry in February 2003.
The display includes one of Chawla's flight suit, several photographs, and historical and biographical information about her and the space program. Also included in the display is a flag flown over Johnson Space Center during the memorial for the fallen astronauts from the Columbia disaster. Jean-Pierre Harrison, Chawla's husband, donated all of the display items.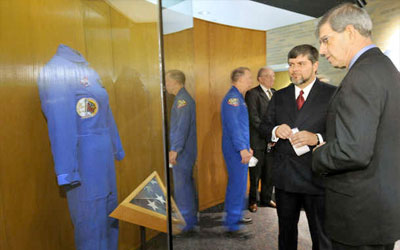 Credit: Star-Telegram.com
Astronauts Janet Kavandi and Dominic Gorie, both colleagues of Chawla, spoke during the dedication as did Harrison, UT Arlington President James D. Spaniolo and Engineering Dean Bill Carroll.
About 250 Air Force Junior ROTC cadets from Arlington school district also attended the display's dedication.