Drivers in Nebraska may have encountered an unusual sight on Saturday, October 31, as a mockup of NASA's
once-planned X-38
International Space Station crew return vehicle (CRV) concluded the last leg of its journey from Space Center Houston in Texas to the
Strategic Air and Space Museum
near Ashland, where it is set to be restored and go on display beginning November 14, 2009.
Originally delivered to NASA's Johnson Space Center in December 1996, the X-38 (V-132) mockup was the second drop test model built for the agency by Scaled Composites. Based on the design of the earlier developed X-24A lifting body, V-132 completed three parafoil and parachute-assisted flights between March 1999 and March 2000 after being dropped from a Dryden Flight Research Center B-52 Stratofortress over Edwards Air Force Base.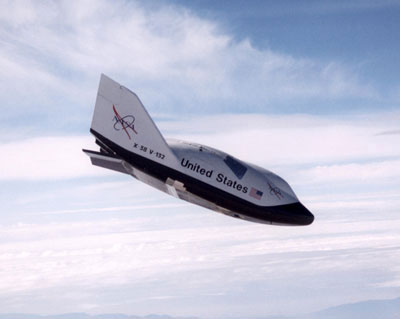 V-132 during its second flight on July 9, 1999. Credit: NASA
V-132's third and final free flight was the highest, fastest, and longest X-38 drop test in the program's history. Released at an altitude of 39,000 feet, the mockup flew freely for 45 seconds, reaching a speed of over 500 miles per hour before deploying its parachutes for a landing on Rogers Dry Lakebed in California.
Measuring 28.5 feet (8.9m) long by 14.5 feet (4.4m) wide, and weighing approximately 16,000 pounds, the mockup nearly matched the dimensions of the planned X-38 CRV, though was a few feet short. In addition to its parachutes, it was equipped with a nitrogen gas-operated attitude control system and a bank of batteries for internal power.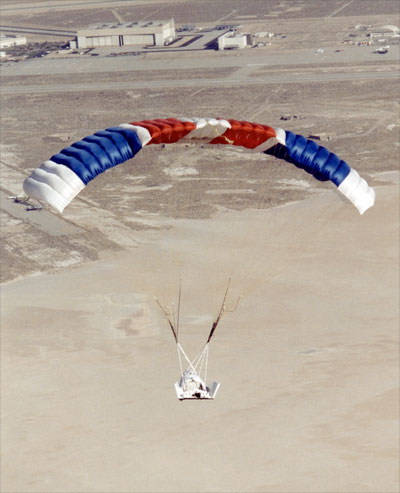 V-132 approaches its first landing on March 5, 1999. Credit: NASA
The V-132 was shelved after development of the X-38 CRV was cancelled due to budget cuts in 2002.
The truck transporting the V-132 made a stopover in Nebraska City, where Lt. Governor Rick Sheehy and Nebraska City Mayor Jack Hobbie welcomed the craft to the state with a ribbon cutting ceremony. The mockup spent a couple of hours on display before resuming its trip to Ashland, arriving early Saturday afternoon at the museum's restoration facility.
Adorned with temporary sponsorship logos for its interstate trip, plans call for V-132's original flight markings to be restored prior to it going on public display.
Jay Chladek, Nebraska-based author of the upcoming "Stations in the Sky" (Univ. of Nebraska Press), contributed to this report.