An exhibit featuring mementos, artifacts and personal papers from Neil Armstrong, Gene Cernan and other Purdue University astronaut alumni has gone digital.
Purdue Libraries' Archives and Special Collections, with help from Lockheed Martin, has placed digital images and information online from its entire 136-item exhibit of "Purdue's Place in Space: From the Midwest to the Moon." The display, in the new Virginia Kelly Karnes Archives & Special Collections Research Center on the fourth floor of the Humanities, Social Sciences, and Education Library in Stewart Center, is open through Oct. 30.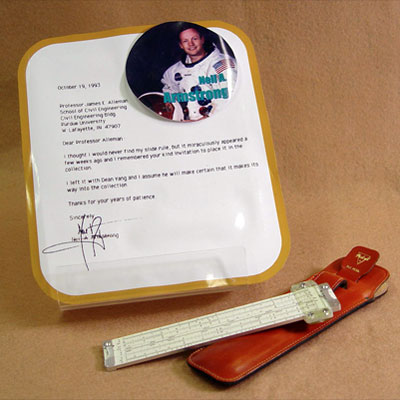 Neil Armstrong's personal slide rule. Credit: Purdue
In addition to Armstrong and Cernan, the exhibit includes items from Roy Bridges Jr., Roger Chaffee, Virgil Gus Grissom, Jerry Ross, Janice Voss and Donald Williams. Sections also include the aviation histories of Lafayette and Purdue, which was the nation's first university to offer college credit for flight training.
The exhibit has been very popular, but until now the audience has been limited to individuals who were able to visit the Purdue campus. "By creating an online version of the exhibit, we are able to share the historic documents and photographs that illustrate Purdue's rich aviation history with people around the world, regardless of time or place," said professor Sammie Morris, university archivist and head of the Division of Archives and Special Collections. "Researchers and the public will discover items in the exhibit that they have not seen before. Some of the many treasures in the exhibit include flight logs and handwritten notes from astronauts, artifacts carried into space, yearbook photographs of the astronauts, and even Neil Armstrong's homework from his days as a student at Purdue."
The "Purdue Place in Space" exhibit was put together to celebrate the 40th anniversary of Armstrong's historic walk on the moon and the university's rich space heritage. Within the past year, both Armstrong and Cernan - the first person to walk on the moon and the most recent to do so - have begun the process of donating personal papers to the university.
Archives and Special Collections also houses the George Palmer Putnam Collection of Amelia Earhart papers, the world's largest compilation of papers, memorabilia and artifacts related to the late aviator who once worked as a Purdue staff member. Personal papers of Ralph Johnson, a 1930 Purdue graduate in mechanical engineering and a flight pioneer who was the first person to document aircraft landing procedures that are still used today, also are there.
The public can visit the display in the Virginia Kelly Karnes Archives & Special Collections Research Center through Oct. 30. The exhibit is open 9 a.m. to 4:30 p.m. weekdays. Groups wanting to schedule a tour may call 765-494-2839.