Robert Pearlman
Editor

Posts: 28766
From: Houston, TX
Registered: Nov 1999

posted 05-21-2008 05:15 PM




---
Colorado's Astronauts: In Their Own Words
Wings Over The Rockies Air and Space Museum
Grand Opening, 7:00 p.m., Friday, May 23
This inspiring new exhibit will feature personal reflections, memorabilia and artifacts from astronauts with Colorado ties. You may not know that 20 percent of all U.S. astronauts have significant ties to the great state of Colorado! Most have birthplace, hometown or alma mater affiliations with Colorado and a few more have other well-known ties to our state.

Visit 'Colorado's Astronauts: In Their Own Words' and learn what inspired these people to become astronauts in the first place, how they prepared for their missions, what their most memorable moments were, how Colorado influenced their careers and what space may hold for all of us in the future.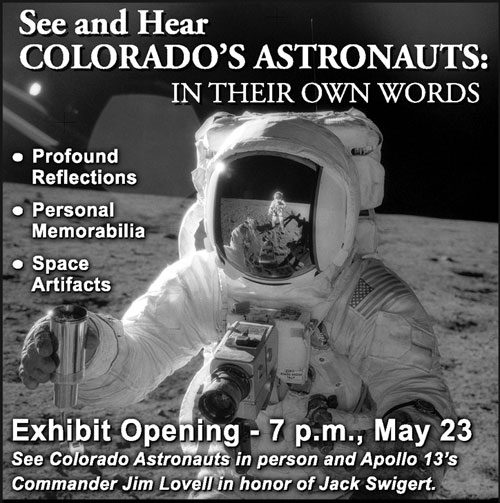 Robert Pearlman
Editor

Posts: 28766
From: Houston, TX
Registered: Nov 1999

posted 10-21-2008 01:24 PM




---
In connection with the exhibit, the Wings Over Rockies Air & Space Museum are hosting a series of six Colorado astronaut lectures. The next event with Brian Duffy is scheduled for October 28.

The museum is offering a "Colorado Astronaut Log Book" for $5 to have "signed by Brian Duffy and all the astronauts appearing in this six-part series." Though they don't specify an offer for absentee orders, interested collectors might contact the museum.