Robert Pearlman
Editor

Posts: 42988
From: Houston, TX
Registered: Nov 1999

posted 08-13-2007 02:43 AM




---
Future's past
NASA has signed a $1.8 billion contract with ATK for the development and testing of the first stage of the Ares I and Ares V rockets that will return astronauts to the Moon. The contract includes the delivery of a four-segment stage for the Ares I-X test flight planned for 2009.
As the first stage utilizes the same solid rocket booster as ATK currently produces for the space shuttle, the Utah-based contractor plans to build the I-X first stage with cylinders and stiffeners flown previously on 30 shuttle missions, including STS-31, the launch of the Hubble Space Telescope; STS-71, the first shuttle docking with the Mir space station, and STS-51A, the earliest of the missions flown by any of the Ares I-X cylinders.
The following graphic, a collectSPACE exclusive, illustrates the "case use history" as identified by ATK for NASA's Ares I-X test flight.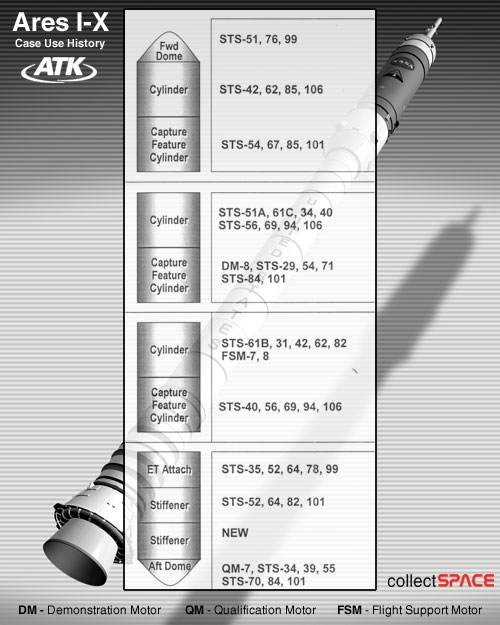 The Ares I-X test flight will launch a four segment solid rocket booster together with an upper stage mass simulator and unmanned mock-up of an Orion crew exploration vehicle.
Robert Pearlman
Editor

Posts: 42988
From: Houston, TX
Registered: Nov 1999

posted 08-13-2007 11:21 AM




---
A brief look at the history represented by the I-X first stage:
STS-51A (1984): Discovery/1st space salvage (PALAPA-B2/WESTAR-VI)

STS-61B (1985): Atlantis/MORE LOS-B, AUSSAT-2, SATCOM KU-2

STS-61C (1986): Columbia/SATCOM KU-I

STS-29 (1989): Discovery/Tracking and Data Relay Satellite-4

STS-31 (1990): Discovery/Hubble Space Telescope

STS-34 (1989): Atlantis/Galileo spacecraft

STS-35 (1990): Columbia/Astro-1

STS-39 (1991): Discovery/Department of Defense mission

STS-40 (1991): Columbia/Spacelab Life Sciences-1

STS-42 (1992): Discovery/International Microgravity Laboratory-1

STS-51 (1993): Discovery/ACTS-TOS

STS-52 (1992): Columbia/U.S. Microgravity Payload-1

STS-54 (1993): Endeavour/Tracking and Data Relay Satellite-F

STS-55 (1993): Columbia/German Spacelab D-2

STS-56 (1993): Discovery/ATLAS-2

STS-62 (1994): Columbia/United States Microgravity Payload

STS-64 (1994): Discovery/LITE, ROMPS, SPARTAN-201

STS-67 (1995): Endeavour/Astro-2

STS-69 (1995): Endeavour/Wake Shield Facility

STS-70 (1995): Discovery/Tracking Data and Relay Satellite-7

STS-71 (1995): Atlantis/1st Mir Docking

STS-76 (1996): Atlantis/3rd Mir Docking

STS-78 (1996): Columbia/Life and Microgravity Spacelab

STS-82 (1997): Discovery/2nd Hubble Servicing Mission

STS-84 (1997): Atlantis/6th Mir Docking

STS-85 (1997): Discovery/CRISTA-SPAS-2

STS-94 (1997): Columbia/Microgravity Science Laboratory

STS-99 (2000): Endeavour/Shuttle Radar Topography Mission

STS-101 (2000): Atlantis/International Space Station 2A-2a

STS-106 (2000): Atlantis/International Space Station 2A-2b