Secretary of the Navy Ray Mabus announced today (April 12) the names of seven ships... [including] an ocean-class auxiliary general oceanographic research (AGOR) ship, the R/V Sally Ride.
"As secretary of the Navy, I have the great privilege of naming ships that will represent America with distinction as part of the fleet for many decades to come," Mabus said. "These ships were all named to recognize the hard working people from cities all around our country who have contributed in so many ways to our Navy and Marine Corps team."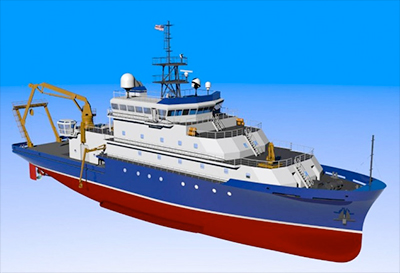 Mabus named the future R/V Sally Ride (AGOR 28), which will be a Neil Armstrong-class AGOR ship, to honor the memory of Sally Ride, a professor, scientist and an innovator at Scripps Institution of Oceanography, University of California San Diego. Ride was the first woman and also the youngest person in space. She later served as director of NASA's Office of Exploration.
Traditionally, AGORs are named for nationally recognized leaders in exploration and science. The R/V Sally Ride is the first academic research ship to be named in honor of a woman.
"Sally Ride's career was one of firsts and will inspire generations to come," said Mabus. "I named R/V Sally Ride to honor a great researcher, but also to encourage generations of students to continue exploring, discovering and reaching for the stars."
The ship will be a well-equipped modern oceanographic research platform that includes acoustic equipment capable of mapping the deepest parts of the oceans, and modular onboard laboratories providing the flexibility to meet a wide variety of oceanographic research challenges. These make them capable of supporting a wide range of oceanographic research activities conducted by academic institutions and national laboratories. The research vessel will be outfitted with multi-drive low-voltage diesel electric propulsion systems. This upgraded system will help maintain efficiency while lowering maintenance and fuel costs.
The Neil Armstrong-class AGOR ship will be 238 feet in length, have a beam length of 50 feet, and can operate at more than 12 knots. AGOR 28 will be built by Dakota Creek Industries, Inc. in Anacortes, Wash.