NASA astronaut
Kenneth Ham
has left the space agency. His last day was May 31.
Ham is a veteran of two spaceflights, where he served as the pilot of STS-124 in 2008 and commander of STS-132 in 2010.
"It has been a pleasure to work with Ken during his tenure here at JSC," said Peggy Whitson, chief of the Astronaut Office at NASA's Johnson Space Center in Houston. "He is an incredibly accomplished aviator and with a great sense of humor. We wish him the best in this new phase of his career."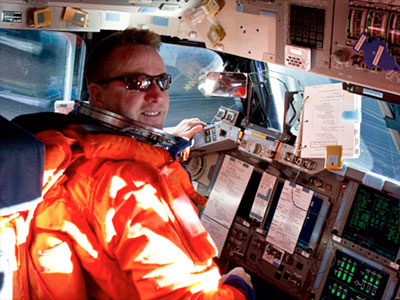 Above: Attired in his launch and entry suit, NASA astronaut Ken Ham, STS-132 commander, occupies the commander's station on the flight deck of space shuttle Atlantis.
Ham, a Navy captain, holds a Master of Science in Aeronautical Engineering from the U.S. Naval Postgraduate School. He joined NASA in 1998.
Before flying in space, he served in multiple technical roles including work as a space shuttle capsule communicator (CAPCOM). Ham's most recent NASA assignment included duties as an instructor pilot in the T-38N and WB-57F research pilot.
Ham is a pilot with more than 6,000 flight hours and experience in more than 40 different aircraft. A 1987 graduate of the United States Naval Academy, Ham will return to the institution as an instructor.