After more than 30 years with NASA, astronaut
Ellen S. Baker
has retired from the agency.
Baker, who holds a degree in medicine, first joined NASA as a medical officer in 1981 and was selected as an astronaut in 1984. A veteran of three spaceflights, Baker has logged more than 686 hours in space. She was a mission specialist on STS-34 in 1989, STS-50 in 1992 and STS-71 in 1995.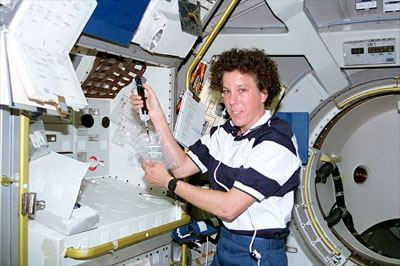 "Ellen's career has contributed significantly in many areas of NASA's medical, science and countermeasure development," Peggy Whitson, chief of the Astronaut Office, said. "Her creative ideas and dedication to NASA will be sorely missed."
Baker first flew in space as a mission specialist on Atlantis on STS-34 in 1989. The crew successfully deployed the Galileo probe to explore Jupiter, mapped atmospheric ozone on Earth and conducted medical and scientific experiments.
She next flew as a mission specialist on space shuttle Columbia on STS-50 in 1992. The mission was the first flight of the United States Microgravity Laboratory and the first Extended Duration Orbiter flight. For more than two weeks, the crew conducted scientific experiments involving crystal growth, fluid physics, fluid dynamics, biological science and combustion science.
Baker's third mission was as a mission specialist on Atlantis on STS-71 in 1995. This was the first space shuttle mission to dock with the Russian Space Station Mir, and involved an exchange of the station crew. The shuttle crew also performed various life sciences experiments and data collections.