It only took one smell of flavored coffee percolating down the hallway of the Payload Operations Integration Center at NASA's Marshall Space Flight Center in Huntsville, Alabama, and you knew astronaut TJ Creamer was in town.
But on most days instead of donning the blue astronaut suit, he wore a nice, button-down shirt with a patch not of his mission to the International Space Station but rather a payload operations director patch. Sort of a role reversal, if you will. As an astronaut living on the space station, he relied on the payload team in Huntsville, which plans and coordinates all science activities on the station, to guide him through 161 days of research experiments. Now crew members and ground teams relied on him.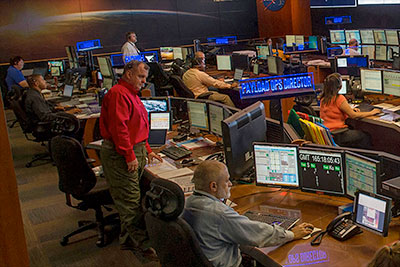 From Dec. 20, 2009, to June 1, 2010, Creamer traveled 65,200,000 miles around the planet as part of Expeditions 22 and 23 onboard the station. For the past three-and-a-half years, he's been traveling a shorter distance between Huntsville and his home base at NASA's Johnson Space Center in Houston.
In April 2012, Creamer became the first astronaut to certify as a payload operations director, or POD, so he soon became fondly known as the Astro-POD. That position leads the Huntsville flight control team and works closely with the flight director in space station mission control at Johnson.
"When the announcement was made that TJ was coming to Marshall to be a POD, the news quickly spread across the organization," said Sam Digesu, branch chief for the payload operations directors. "Folks were excited, yet at the same time a bit intimidated. But when he arrived, his personality, leadership style, desire to learn, and huge ability to teach, mentor and be a team player made him a hit among everyone. Not to mention his impressive bowling skills."
But as they say, all good things must come to an end. And this is the case for Creamer at Marshall. After helping station crews accomplish hundreds of research activities, spanning 14 expeditions, he is transitioning to a new position back at the Johnson Center with the Orion Program. Orion will carry crews when it is launched atop NASA's new rocket, the Space Launch System. Orion and SLS will take crew and cargo on deep space missions, including to an asteroid, and ultimately to Mars.
"TJ has left a lasting imprint with the Marshall team," said Lewis Wooten, director of the Mission Operations Laboratory at Marshall. "The Orion Program will gain tremendous benefit from his support. TJ is a true testament of why we are all here and why we do this job. His commitment and advocacy for the research is unmatched. He will always be a part of our 'family.'"
Creamer took his position seriously, but he didn't just come to Huntsville and report for his shift and return to his hotel each day. Rather, he was often out in the community speaking to Boys and Girls Clubs, civic groups, schools and the public — always spreading the word of the importance of spaceflight and the space station to life here on Earth. He even surprised people taking the U.S. Space & Rocket Center tours of Marshall that are offered to the general public. One of the stops is the Payload Operations Integration Center, where folks are given a look "inside" through a glass-windowed viewing area. If he could make time, Creamer left his workstation and went into the viewing room to share some first-hand space stories with delighted, lucky visitors.
"I don't think the man was ever 'off-duty,'" added Lamar Stacy, deputy branch chief for the payload operations directors. "He would be transmitting thoughts and comments via email or text at all hours of the day, regardless of where he was on console, in the office at Houston, after hours in Huntsville or anywhere. He is a dynamic person and relentless in his pursuit of improvement."
His unique perspective of having "been there, done that" in space helped to improve processes and shed light for the ground team.
"Working with TJ has been has one of the highlights of my career," said Mark Roberts, a data management coordinator in the payload operations center. "I mean, how many people can say, 'I work with an astronaut?' I always had to have my 'A game' on when I was on console with him. I knew what he expected out of the team, and I made sure I knew the answers before he asked the questions. It was priceless working with someone who had onboard experience and could marry our operation philosophy with what the crew expected and what actual motion they went through to perform our science."
It was the same feeling throughout the payload operations team. When asked to describe TJ in just three words, none could. They used words like friendly, driven, leader, savvy, charming, fearless, humorous, conscientious and probably the most repeated — "advocate."
"TJ always had a smile waiting to greet you," added Cat Gibson, a data management coordinator. "It always brought a smile to my face to see him walk into the control room, ready to work on my shift. You knew it was going to be a good shift! We're all going to miss that. He'll always be our Astro-POD."