Dr. Edward Cheung, long-time Principal Engineer for the Hubble Space Telescope Development Project was recently dubbed Knight of the Royal Order of the Netherlands Lion. As an engineer who develops innovative electrical systems and solutions for the Hubble Space Telescope (HST), he has successfully mastered the art of blending new science and technology with outreach and inspiration.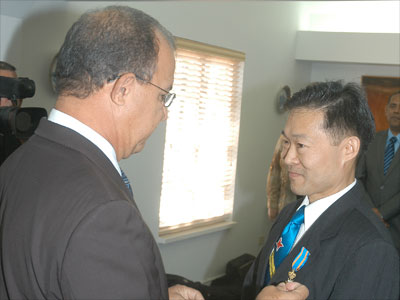 Credit: Edward Cheung/NASA
The Governor of Aruba, Fredis Refunjol fastens the royal decoration to Cheung's jacket.
His life reads like a fairy tale: young boy opens a box, discovers a challenging quest, and eventually receives knighthood for his many exploits and good deeds throughout the land. It began as a boy in Aruba, when he unfastened the screws to a radio. When he lifted off the cover to reveal a labyrinth of wires and circuitry, it revealed the components that "magically" made the sound. It was then he decided he wanted to be an electrical engineer. Education, he knew, was the path that would help him achieve his dream.
After studies at Colegio Arubano High School in Aruba and undergraduate work at Worchester Polytechnic Institute in Massachusetts, Cheung got a Ph.D. in robotics from Yale University and began a summer internship at NASA's Kennedy Space Center. Recognizing that Goddard was emerging as a hub for building flight hardware, he moved to Greenbelt, Md. to be a part of the action.
In 1996, Cheung joined the Hubble Space Telescope Development Team and began work on such critical systems as the HST Orbital System Test and the Near Infrared Camera and Multi-Object Spectrometer cryogenic cooler. He continued to give guest lectures at schools and universities in Aruba. However, it was not until the launch of the ASCS/NCS Relay Unit Breaker Assembly or "ARUBA" box on the Hubble Servicing Mission 3B in 2002 that his outreach efforts truly took flight. The device he so cleverly named after his country to generate public interest in technology and science captured the attention of the entire nation.
"It had a critical function to correct a fault that could compromise Hubble," explained Cheung. "The crew would be handling and interfacing with this box during installation. They would say the word "Aruba" in space -- perhaps for the first time." The entire island watched and cheered when astronaut John Grunsfeld declared the installation of ARUBA on Hubble a success. During the development of Servicing Missions 3A and 4 to Hubble, Cheung invited a camera crew from Aruba to come to Goddard and Kennedy to document the action in Aruba's local language.
Throughout the years, his lectures and the productions he has coordinated have reached thousands of students and professionals, making him one of the island's most celebrated sons.
In the midst of these milestones, Cheung is quick to shine the spotlight on the impact that NASA science and Hubble's instruments have upon our understanding of the Universe. Hubble is an ambassador of science and technology to the entire world, he explains.
"Outside of the walls of a NASA Center, far away in a country like Aruba, NASA's brand is very strong, and we have a lot to be proud of," he said. "I want us to know that our work is important and that we should derive inspiration from that, just like many who are deciding their careers derive inspiration from NASA." He continued, "We should always realize that what we do is a privilege; we should appreciate it and use it to work harder, and be vigilant to not tarnish that reputation."
In recognition of his dedication to educating Aruba's youth and his remarkable accomplishments on Hubble, on June 12, Queen Beatrix of the Netherlands conferred upon Dr. Cheung knighthood into the Order of the Netherlands Lion. This award, the highest civilian order in the Dutch Kingdom, was only conferred upon eight people in 2010. Sir Cheung's honor marks the first time that the order has been awarded to a native-born citizen of Aruba.
What was the first thing his daughter did when the family found out? She posted it on Facebook. They would later discover that a fortuitous mix-up with where the medal was initially sent bought Sir Cheung enough time to travel to Aruba with his family and siblings to receive the knighthood on the 50th anniversary of the founding of his high school.
"Looking at my kids, who are extremely keen on astronomy, makes me realize what an amazing legacy Hubble is," he said. Knighthood will only strengthen his educational outreach efforts in his native land.