Legendary astronaut and former Navy pilot Neil Armstrong received a pair of honorary Naval Astronaut Wings in a small ceremony aboard USS Dwight D. Eisenhower March 10 in recognition for his dedicated service to the Navy and in the field of space exploration.
Armstrong, the first man to set foot on the moon July 20, 1969, was aboard IKE as part of the "Legends of Aerospace" Tour sponsored by Morale Entertainment.
"Today is a special occasion for all of naval aviation. As you can imagine, it is a tremendous honor for me to present Neil Armstrong with astronaut wings," said IKE's Commanding Officer, Capt. Dee L. Mewbourne. "We present these wings on behalf of the generations of naval aviators - past, present and future."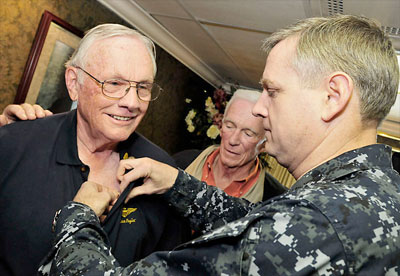 Credit: U.S. Navy/Mass Communication Specialist 2nd Class Gina K. Wollman
Neil Armstrong is presented with Naval Astronaut Wings by Capt. Dee Mewbourne, commanding officer of the USS Dwight D. Eisenhower, as fellow moonwalker Gene Cernan watches.
Described by many as humble and unassuming, Armstrong accepted the wings with great honor.
"I take these wings with great pleasure and great pride," said Armstrong. "I have made certain achievements in my life and been recognized many times, but, there is no achievement I value more highly then when I received the wings of gold [for naval aviation]; to be given a second pair of gold wings is just as special."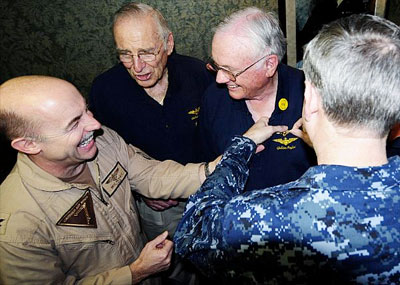 Credit: U.S. Navy/Mass Communication Specialist 2nd Class Jon Dasbach
Capt. Roy Kelley, commander of Carrier Air Wing 7, and Capt. Dee Mewbourne, commanding officer of the aircraft carrier USS Dwight D. Eisenhower present Neil Armstrong with his Navy Astronaut wings as fellow astronaut Jim Lovell looks on.
Prior to the IKE visit, in a conversation with Capt. (Ret.) Edward F. Bronson, Armstrong, who served as a naval aviator from 1949 to 1952, mentioned he never received a pair Naval Astronaut Wings. The wings were not authorized prior to 1961 when they were first presented to Cmdr. Alan Shepard Jr.
Word quickly reached Vice Adm. Thomas Kilcline, Commander, Naval Air Forces, and through a series of e-mails between Commander, Naval Air Forces Atlantic and Commander, U.S. Naval Forces Central Command, it was determined that it would be a fitting tribute to present Armstrong with a pair of Naval Astronaut Wings at sea aboard an aircraft carrier.
Armstrong qualified for carrier landing aboard the USS Cabot and USS Wright in 1949. He qualified as a naval aviator in 1950, and made his first jet carrier landing on USS Essex in 1951 while assigned to Fighter Squadron 51.
During the ceremony, Armstrong said that since that time nearly everything in his career has had its roots in naval aviation.
"I have learned so much throughout my career and I owe a tremendous amount to the Navy," he said.
Mewbourne expressed gratitude to Armstrong for enriching the lives of all IKE's Sailors by visiting the ship and sharing his stories and experiences.
"You reminded us that we need to push the envelope every day, but also stay professional." said Mewbourne
As Mewbourne and Capt. Roy Kelley, commander, Carrier Air Wing 7, pinned on the wings, Armstrong's friend and Apollo 13 astronaut Jim Lovell joked that it was tradition to throw the recipient in a lake after he received his wings.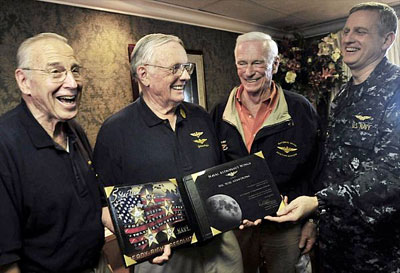 Credit: U.S. Navy/Mass Communication Specialist 2nd Class Gina K. Wollman
Armstrong offered these final words to the crowd, "You will be surprised how much of this [the Navy] will follow you through the rest of your life. You all have a long naval life ahead of you, and it's great."
Others in attendance, as part of the "Legends of Aerospace" Tour were Gene Cernan, the last man on the moon, Brig Gen. (Ret.) Steve Ritchie, the last Air Force Pilot Ace, and Bob Gilliland, a test pilot and the first man to ever fly the SR 71 Blackbird, known as the fastest and highest-flying production aircraft in the world.
Eisenhower is underway in the Arabian Gulf on a regularly scheduled deployment to the 5th Fleet. Operations in the 5th Fleet AOR are focused on reassuring regional partners of the coalition's commitment to help set conditions for security and stability. U.S. forces maintain a naval and air presence in the region that deters destabilizing activities while safeguarding the region's vital links to the global economy.