Robert Pearlman
Editor

Posts: 27328
From: Houston, TX
Registered: Nov 1999

posted 04-16-2008 07:28 AM




---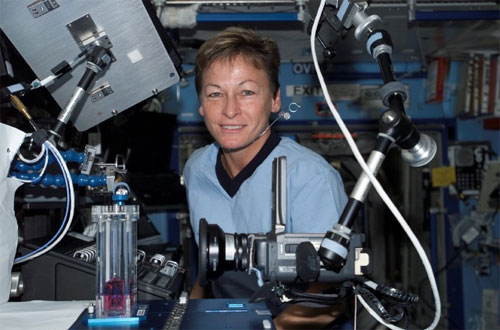 Peggy Whitson, the first female commander of the International Space Station, broke Mike Foale's record today for cumulative time in space by a U.S. astronaut of 374 days. She will land Saturday with 377 days in space on two flights, ranking her 20th among all space explorers.
Whitson performed five spacewalks during Expedition 16 for a total of six career spacewalks totaling 39 hours, 46 minutes, putting her 16th on the all-time list, more than any other woman.
Delta7
Member

Posts: 1153
From: Ossian IN USA
Registered: Oct 2007

posted 04-16-2008 11:30 AM




---
Congrats to Dr. Whitson! Super job done by one of the Astronaut Office's star performers.

The question now is what to do for an encore? Will she fly again, or move on to other challenges?