saturn1b
Member

Posts: 139
From: Westcliffe, CO
Registered: Jun 2006

posted 06-14-2007 08:48 PM




---
I wanted to share this with the group. Yesterday (June 13), we had the pleasure and honor of visiting with German rocket scientist Oscar Holderer right here in my office. Oscar came to America with Wernher von Braun during Project Paperclip. It was a real fun visit and I made a new friend.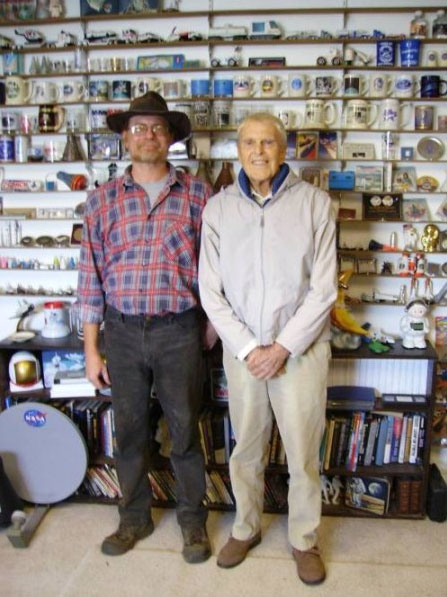 Ken Havekotte
Member

Posts: 2107
From: Merritt Island, Florida, Brevard
Registered: Mar 2001

posted 06-14-2007 10:55 PM




---
Nice to see Holderer looking so well.

Yes, indeed, he was one of the original von Braun team of rocket specialists from Peenemunde, White Sands, and Huntsville having worked on the A-4/V-2, Wasserfall, and the Saturn V moon rocket. Oscar C. Holderer was one of the oldtimers, along with many others, that I have never met. But we did correspond briefly throughout the 1970s.

Can you tell us any interesting stories, more about his rocketry career, etc. that he may have shared with you during his visit?
saturn1b
Member

Posts: 139
From: Westcliffe, CO
Registered: Jun 2006

posted 06-15-2007 08:49 AM




---
Over the last few weeks he has shared some fascinating stories from his past that he has asked to remain private. So I must respect that.

But he did say that he is not that 'deep' into space anymore. Having been a part of it for so long, I suppose that it's not that big a deal now. He's a very quite and humble man that doesn't think he's anyone special.

I, on the other hand, was thrilled with his visit. And I hope to be able to visit with him again when I get to Alabama.

He did talk about his work with the Space & Rocket Center when the Apollo simulators were donated after they were obsolete. He went through them to make them more useful for operations in Space Camp. And he also mentioned his work with wind tunnels.

But for the most part we just visited and talked about my welding and fabrication shop (which he used to be very much into) and life out here in the mountains.
eurospace
Member

Posts: 2401
From: Brussels, Belgium
Registered: Dec 2000

posted 06-16-2007 07:07 AM




---
quote:

---

Originally posted by Ken Havekotte:
Nice to see Holderer looking so well.

---
At 87 years of age today, Holderer was - I think - the youngest member of von Braun's group.