Crsh4Csh
New Member

Posts:
From:
Registered:

posted 06-05-2007 08:27 PM




---
What a great evening with Dr. Aldrin and Mrs. Aldrin!!! I want to thank Linn and the people at ASF for making such a great evening possible.

We had a three hour dinner with Buzz and his lovely wife Lois at Spago in Beverly Hills, Calif. Buzz and Lois know everyone there and the chef, Wolfgang Puck, came and visited with us for a little bit and cooked special meals for us. Buzz is like the mayor there, everyone from the waiters to the valet seem to know he and Lois, and love them, it was great.

We talked about everything possible, and while Mrs. Aldrin and I chatted, out of the corner of my eye I watched my 10 year old daughter Hailey engaging in very deep conversations with Dr. Aldrin. She asked such questions on her own as "Was the food good out in space?" to "Did you miss leaving the moon once you were there?" and Buzz took his time and answered every question in detail to great length.

I encourage everyone to check with the ASF on there upcoming auctions and bid on them like crazy and try to get them, cause those experiences with the astronauts first hand is more memorable than any piece of memorabilia or autograph that one could buy (by the way, Buzz graciously signed several items for us and gave Hailey a few of his personal business cards and even signed them!!) So, a huge thank you to Linn and all the folks at the ASF for making these type of things possible, and to everyone else, try and bid on these things cause whatever it costs, watching my 10 year old daughter privately interact with a historic American Hero for almost three hours... priceless!!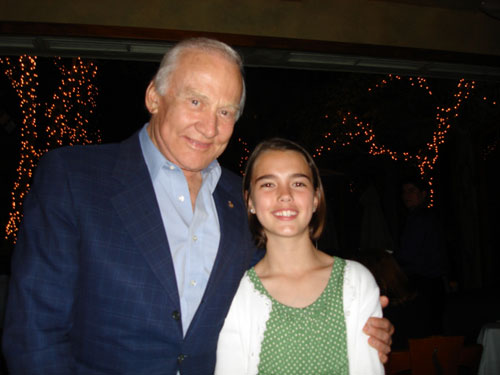 mjanovec
Member

Posts: 3593
From: Midwest, USA
Registered: Jul 2005

posted 06-05-2007 08:34 PM




---
Thanks for the report. I'm always curious how these encounters go, so I'm glad you were willing to post about your experience.

Did you dine in a fairly private area or were you seated among the regular guests? And if so, did anyone recognize Buzz?