After six missions to the International Space Station, including five official resupply missions for NASA, SpaceX is preparing to launch its sixth Commercial Resupply (CRS) mission to the orbiting lab.
SpaceX's CRS-6 mission will launch on a Falcon 9 rocket from Space Launch Complex 40 at the Cape Canaveral Air Force Station, Florida.
If all goes as planned, Dragon will arrive at the station two days after lifting off. Dragon is expected to return to Earth four weeks later for a parachute-assisted splashdown off the coast of California.
Background and purpose
CRS-6 (SpX-6) is the sixth of at least 12 missions that SpaceX will fly under NASA's Commercial Resupply Services (CRS) contract.
In December 2008, NASA announced that SpaceX's Falcon 9 launch vehicle and Dragon spacecraft had been selected to resupply the space station after the end of the shuttle program in 2011. Under the CRS contract, SpaceX has restored an American capability to deliver and return significant amounts of cargo, including live plants and animals, to and from the orbiting laboratory.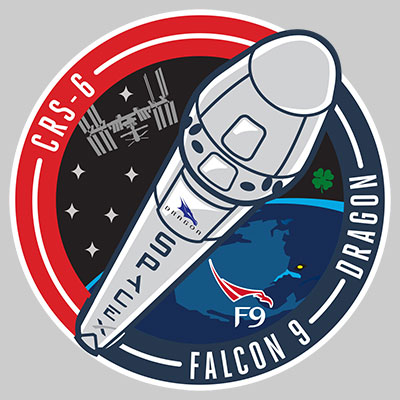 Cargo
Dragon is filled with more than 4,300 pounds (1,950 kg) of supplies and payloads, including critical materials to support about 40 of the more than 250 science and research investigations that will occur during Expeditions 43 and 44. Science payloads will investigate new ways to possibly counteract the microgravity-induced cell damage, gather new insight that could lead to treatments for osteoporosis and muscle wasting conditions, continue studies into astronaut vision changes and test a new material that could one day be used as a synthetic muscle for robotics explorers of the future.
The mission also delivers ISSpresso, an espresso maker that crew members can use to make tea, coffee, broth or other hot beverages, as well as specially designed space cups as part of a capillary beverage study, an improvement to the standard drinking pouch with a straw.
Dragon will return with about 3,600 pounds (1,635 kg) of cargo, which includes crew supplies, hardware and computer resources, science experiments, space station hardware, and trash.