Brig. Gen. Nina Armagno, commander, 45th Space Wing, recently signed a five-year leasing agreement with SpaceX that will allow for the creation of the first-ever "Landing Pad" at Launch Complex 13 at historic Cape Canaveral Air Force Station.
SpaceX plans to repurpose the launch complex to successfully support their construction of a vertical-landing facility suitable for the return of reusable first-stage boosters of their Falcon 9 and Falcon Heavy launch vehicles that are currently launched from LC 40 at CCAFS.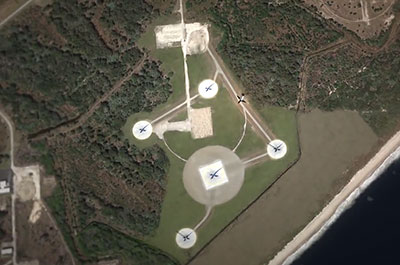 LC-13 was originally used for operational and test launches of the Atlas ICBM, and Atlas B, D, E and F missiles were also test launched from there.
It was the most-used and longest-serving of the original four Atlas pads.
Now it will be used in an amazing new way.
"The way we see it, this is a classic combination of a highly successful launch past morphing into an equally promising future," said Gen. Armagno.
"It's a whole new world, and the 45th Space Wing is committed to defining and building the Spaceport of the future," she said.
"For decades, we have been refining our procedures for getting successful launches skyward here on the Eastern Range. Now we're looking at processes on how to bring first-stage rockets back to earth at the first landing pad at the Cape," she said. "We live in exciting times here on the Space Coast."