After five missions to the International Space Station, including four official resupply missions for NASA, SpaceX is preparing to launch its fifth Commercial Resupply (CRS) mission to the orbiting lab.
SpaceX's CRS-5 mission will launch on a Falcon 9 rocket from Space Launch Complex 40 at the Cape Canaveral Air Force Station, Florida.
If all goes as planned, Dragon will arrive at the station two days after lifting off. Dragon is expected to return to Earth four-and-a-half weeks later for a parachute-assisted splashdown off the coast of California.
Background and purpose
CRS-5 (SpX-5) is the fifth of at least 12 missions that SpaceX will fly under NASA's Commercial Resupply Services (CRS) contract.
In December 2008, NASA announced that SpaceX's Falcon 9 launch vehicle and Dragon spacecraft had been selected to resupply the space station after the end of the shuttle program in 2011. Under the CRS contract, SpaceX has restored an American capability to deliver and return significant amounts of cargo, including live plants and animals, to and from the orbiting laboratory.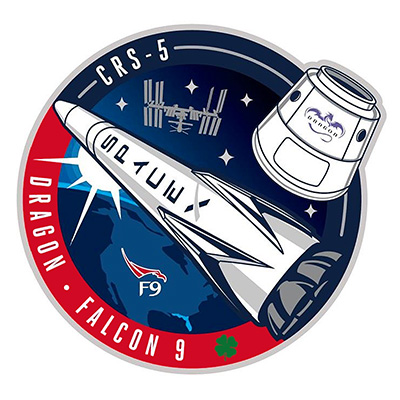 Cargo
Dragon is filled with more than 5,000 pounds (2,300 kg) of supplies and payloads, including critical materials to support 256 science and research investigations that will occur during Expeditions 42 and 43. Science payloads will enable model organism research using fruit flies and will study flatworms to better understand wound healing in space.
One science payload is the Cloud-Aerosol Transport System (CATS), a laser remote sensing experiment that will orbit on the International Space Station. CATS will characterize and measure the worldwide distribution of clouds and aerosols: tiny particles that make up haze, dust, air pollutants and smoke. Knowing where aerosols are in the atmosphere can be critically important, as these particles can affect weather, climate, airplane safety, and human health.
The mission also delivers an IMAX camera for filming during four increments and tools to be used in future spacewalks to prepare the station for the installation of the new international docking adapters.
Dragon will return with about 3,600 pounds (1,635 kg) of cargo, which includes crew supplies, hardware and computer resources, science experiments, space station hardware, and trash.