SpaceX is set to launch the SES-8 telecommunications satellite for the satellite provider SES on Monday (Nov. 25).
The satellite will launch aboard a Falcon 9.1.1 rocket from SpaceX's Complex 40 at the Cape Canaveral Air Force Station in Florida. The launch window opens at 4:37 p.m. CST (2237 GMT).
In this flight, the Falcon 9 rocket will deliver the SES-8 satellite to a Geostationary Transfer Orbit (GTO). If all goes as planned, SES-8 will be deployed into its geosynchronous transfer orbit approximately 33 minutes after liftoff.
This mission will be the first Falcon 9 launch to a geosynchronous transfer orbit, delivering the satellite to a 295 by 80,000 km orbit at 20.75 degrees inclination.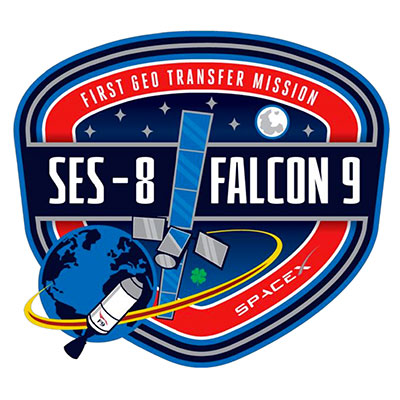 The hybrid Ku- and Ka-band satellite will provide communications coverage of the South Asia and Asia Pacific regions. Co-located with NSS-6 at SES's 95 degrees East orbital slot, its high performance beams will support rapidly growing markets in South Asia and Indo-China, as well as provide expansion capacity for direct-to-home, very small aperture terminal and government applications.
The 6,918-lbs (3,138 kg) satellite is expected to provide 5 kilowatts of power to its payload of 33 Ku-band transponders.