mikej
Member

Posts: 374
From: Germantown, WI USA
Registered: Jan 2004

posted 07-15-2013 04:00 PM




---
Popular Science reports NASA tested the first 3-D printed rocket engine injector.
The agency has just finished successful tests of a 3-D printed rocket engine injector at the Glenn Research Center in Cleveland, Ohio, marking one of the first steps in using additive manufacturing for space travel.

In conjunction with rocket manufacturer Aerojet Rocketdyne, NASA built the liquid-oxygen and gaseous-hydrogen rocket injector assembly using laser melting manufacturing. This sci-fi-sounding technique involves melting metallic powders down with high-powered laser beams, then fusing them into shape. Previous manufacturing methods for these type of injectors required more than a year. Being able to 3-D print the parts reduces the time frame to four months, at a 70 percent price reduction.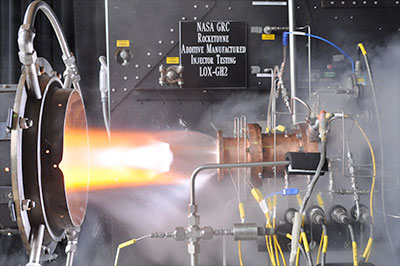 The article doesn't mention the size of the injector, but from the photo, it appears to only be a couple inches in diameter.
Aeroject Rocketdyne release
Aerojet Rocketdyne Successfully Tests Rocket Injector Assembly Built Using Additive Manufacturing Technology

Aerojet Rocketdyne and NASA successfully completed a series of hot-fire tests on a liquid-oxygen/gaseous hydrogen rocket injector assembly built using additive manufacturing technology. This testing, in cooperation with NASA Glenn Research Center (NASA-GRC) under a Space Act Agreement, was a key step in the development and certification of the integrated manufacturing process, analysis and design tool, and component technologies required to implement Selective Laser Melting (SLM) for highly critical rocket engine components. Aerojet Rocketdyne is a GenCorp company.

"This project combined new additive design / analysis tools and manufacturing processes to make a component with legacy engine performance characteristics, paving the road to implement these technologies in these engine products," said Jeff Haynes, program manager, Additive Manufacturing, Aerojet Rocketdyne. "This is a significant advancement in the application of additive manufacturing to rocket engines. Additive manufacturing has the ability to produce complex parts at a fraction of the time and cost, if applied through a rigorous risk-based process. Today, we have the results of a fully additive manufactured rocket injector with a demonstration in a relevant environment."

The hot-fire test required significant material design data development from the additive manufacturing process to ensure adequate factors of safety and reliability. This injector was designed by Aerojet Rocketdyne engineers to reduce manufacturing lead time from more than a year to just a few months, resulting in potential cost savings of more than 70 percent compared to traditional manufacturing processes. The next steps in the adoption of this technology include the generation of scale-up and establishing production requirements. Aerojet Rocketdyne is actively working to integrate advanced manufacturing technologies into the product lines to address affordability concerns across the industry.