Robert Pearlman
Editor

Posts: 42988
From: Houston, TX
Registered: Nov 1999

posted 08-22-2008 11:30 AM




---
European Space Agency release
Mars Webcam: An ordinary camera in an extraordinary place!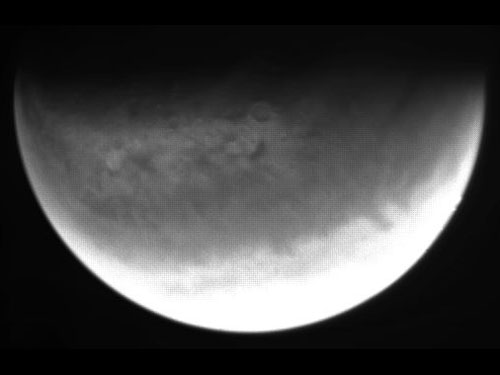 The Visual Monitoring Camera (VMC) is mounted on Mars Express, ESA's deep-space probe now orbiting the Red Planet. It originally provided simple, low-tech images of Beagle lander separation, and is now back in action as the 'Mars Webcam'. It's not a scientific instrument, but it does provide fantastic views of Mars - including crescent views of the planet not obtainable from Earth.
The VMC consists of a small CMOS-based optical camera, which can be fitted with an on-pixel RGB color filter for color images. The camera has a basic command interface that can be operated by ground controllers at ESOC; it does not offer advanced features such as upgradeable software as found on other instruments.

The VMC really is just a regular 'web cam' such as found attached to any home PC, except it is specially qualified to function in the space environment.