ESA's Automated Transfer Vehicles are an essential contribution by Europe to running the International Space Station. Naming the fifth after Belgian scientist Georges Lemaître continues the tradition of drawing on great European visionaries to reflect Europe's deep roots in science, technology and culture.
The first Automated Transfer Vehicle (ATV), which made a flawless flight in 2008, was named after French science fiction writer Jules Verne. It was followed in 2011 by ATV-2, named in honor of German mathematician and astronomer Johannes Kepler.
It will be the turn of the third ATV, named after the Italian physicist and space pioneer Edoardo Amaldi, to head towards the space station on March 9. ATV-4, aiming for launch in early 2013, carries the name of Albert Einstein.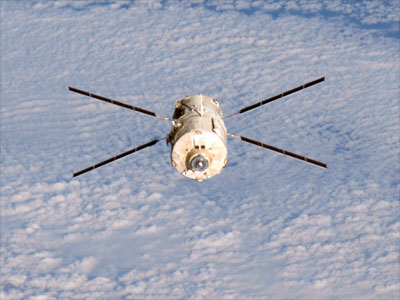 Above: Backdropped by a blanket of clouds, ATV-1 Jules Verne departs from the International Space Station in 2008.
Naming the last vehicle of the family, ATV-5, after Belgian physicist Georges Lemaître, father of the Big Bang theory, continues this approach.
The name, proposed by Belgium's delegation to ESA, was endorsed on 14-15 February by the ESA Program Board responsible for space station matters during a meeting at ESA Headquarters in Paris.
ESA director Jean-Jacques Dordain said, "Belgium has been a key participant in the European space adventure since its very beginning.
"Its contribution to ESA programs and activities in general, and to the International Space Station in particular, has been a success for both Belgium and ESA.
"By naming ATV-5 after Georges Lemaître, we honor a world-class Belgian scientist who was instrumental in expanding our knowledge of the origins of the universe."
The Belgian Minister responsible for Space, Paul Magnette, noted: "I am extremely happy that the great Belgian scientist George Lemaître, born in my hometown, is honored in this way.
"This shows that his work and achievements have not been forgotten and are still relevant so many decades on.
"Clearly, Belgium's involvement in space in Europe has deep roots and is based on a long tradition.
"The ATV "Georges Lemaître" will carry supplies to the ISS, allowing today's — equally excellent — Belgian researchers to carry out experiments and research on the ISS, thus pushing the boundaries of human knowledge forward in the tradition of Georges Lemaître."
The space station depends on regular deliveries of experiment equipment and spare parts, as well as food, air and water for its crew.
Since 2008, every year and a half, an ATV has delivered about 6 tonnes of cargo some 400 km above Earth.
After launch on an Ariane 5 from Europe's Spaceport in French Guiana, ATV automatically navigates to a precision docking with the Station's Russian Zvezda module.
It remains attached to the ISS for up to six months before reentering the atmosphere and deliberately burning up together with several tonnes of Station waste.

About Georges Lemaître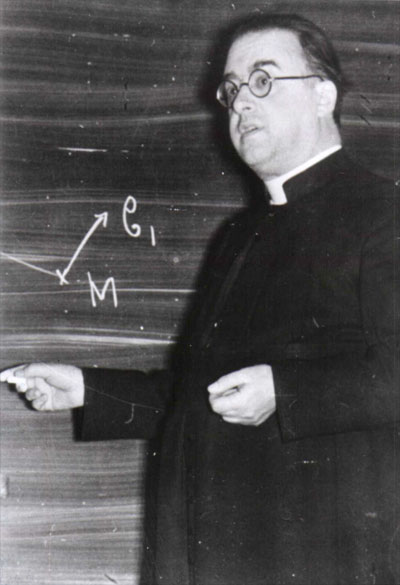 Above: Georges Lemaître at Catholic University, Leuven, Belgium.
Georges Lemaître was born on 17 July 1894 in Charleroi, Belgium. He obtained his doctorate in physics and mathematics in 1920 and was ordained a priest in 1923.
He then became a graduate student in astronomy at the University of Cambridge in England studying cosmology, stellar astronomy and numerical analysis.
In 1925, after two years of studies at Harvard and MIT in the USA, he returned to Belgium and became a full-time professor at the Catholic University of Leuven, where he remained for the rest of his career.
In 1927, he discovered a family of solutions to Einstein's relativity equations that described an expanding Universe rather than a static one, and provided the first observational estimation of the Hubble constant. The theory later became much better known as the Big Bang theory.
Lemaître was awarded the highest Belgian scientific distinction and was appointed a member of the Pontifical Academy of Sciences in 1936, remaining active there in until his death in 1966, shortly after having learned of the discovery of the cosmic microwave background radiation that provided further proof of his theory about the birth of the Universe.