Soyuz TMA-11M commander Mikhail Tyurin of the Russian Federal Space Agency Roscosmos, NASA flight engineer Rick Mastracchio, and flight engineer Koichi Wakata of JAXA are set to launch to the International Space Station (ISS) Wednesday (Nov. 6) at 10:14 p.m. CST (0414 GMT; 10:14 a.m. local time Nov. 7), from the Baikonur Cosmodrome in Kazakhstan.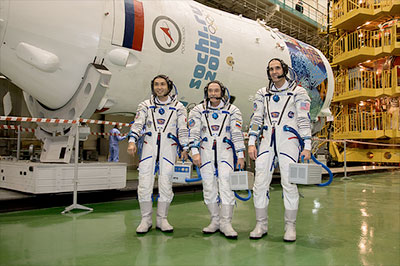 Credit: NASA/Victor Zelentsov
They will dock their Soyuz to the station's Rassvet module at 4:31 a.m. CST (1031 GMT) on Thursday (Nov. 7) following a four-orbit rendezvous.
About two hours later, the hatches between Soyuz TMA-11M and station will open and Tyurin, Mastracchio and Wakata will be greeted by ISS Expedition 37 commander Fyodor Yurchikhin, flight engineer Karen Nyberg of NASA and flight engineer Luca Parmitano of ESA, who have been on board the orbiting laboratory since late May, as well as Oleg Kotov and Sergey Ryazansky of Roscosmos and NASA astronaut Mike Hopkins, who arrived at the station in September.
This will be the first time since October 2009 that nine people have served together aboard the ISS without a space shuttle being docked to the outpost.
Kotov, Ryazansky and Hopkins will stay on the space station until mid-March. Yurchikhin, Nyberg and Parmitano will return to Earth on Nov. 10, leaving Kotov as Expedition 38 commander.
Tyurin, Mastracchio and Wakata will stay on the station until mid-May 2014.
On Tuesday (Nov. 5), a Soyuz-FG rocket, adorned with the logo of the Sochi Olympic Organizing Committee and other related artwork and topped with the Soyuz TMA-11M spacecraft, was rolled out to the launch pad by train and erected into position. Tyurin, Mastracchio and Wakata will deliver an unlit Olympic torch to the space station, where it will be carried on a spacewalk before returning to Earth for use in the Winter Games' opening ceremonies.