Progress M-16M, the 48th Russian unmanned craft to deliver cargo to the International Space Station, will liftoff Wednesday (Aug. 1) from the Baikonur Cosmodrome in Kazakhstan.
Unlike past Progress flights however, it will also arrive at the orbiting complex later the same day.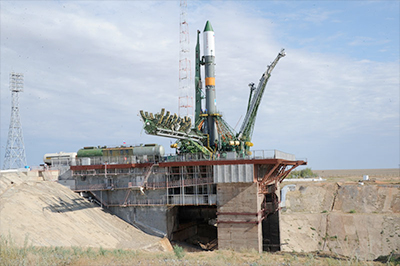 Loaded with 1,962 pounds (890 kilograms) of propellant, 110 pounds (50 kilograms) of oxygen and air, 925 pounds (420 kilograms) of water and 2,817 pounds (1,278 kilograms) of supplies, spare parts and experiment hardware, Progress M-16M is scheduled to launch at 2:35 p.m. CDT (1935 GMT, 1:35 a.m. Aug. 2, Baikonur time) on a novel four-orbit, six-hour expedited transit to the station.
With this launch, Russian mission controllers are testing a modified rendezvous plan designed to reduce the typical two-day flight to the ISS. If applied to the crewed Soyuz vehicles, this would increase crew comfort and provide for additional contingency time at the end of the spacecraft's mission.
If all goes as planned, docking by the Progress to the Pirs docking compartment will occur at 8:24 p.m. CDT (0124 GMT Aug. 2).
Flight controllers retain the option to revert to a two-day rendezvous if something unexpected occurs in the first three hours, or two orbits, of the mission. In that case, the docking would take place late Friday afternoon (Aug. 3).