Roscosmos cosmonaut Oleg Kononenko, NASA astronaut Don Pettit and European Space Agency astronaut Andre Kuipers returned to Earth on board the Soyuz TMA-03M spacecraft on Sunday morning (July 1) after 193 days off the planet, all but two spent on board the International Space Station (ISS).
The Soyuz landed at 3:14 a.m. CDT (0814 GMT) on the steppe of Kazakhstan, near the town of Dzhezkazgan.
Kononenko, Pettit and Kuipers arrived at the space station on Dec. 23, 2011 aboard the same spacecraft, TMA-03M, as they landed, joining the Expedition 30 crew as flight engineers. ISS Expedition 31 began and Kononenko took command when Expedition 30 crew members Dan Burbank, Anton Shkaplerov and Anatoli Ivanishin left the station on April 27.
Their mission over, the three TMA-03M crew members will be flown to Karaganda for a Kazakh welcome home ceremony. Kononenko will then go to the Yuri Gagarin Cosmonaut Training Center in Star City, outside of Moscow, while Pettit and Kuipers will be flown to the Johnson Space Center in Houston to begin their rehabilitation.
This was the second trip into space for Kononenko, who previously served a six-month tour of duty on the station as an Expedition 17 flight engineer in 2008. He now has a cumulative total time in space of 392 days.
Pettit wrapped up his third spaceflight, having previously completed five and a half months aboard the station as an Expedition 6 flight engineer in 2002 and 2003 and visiting the orbiting complex again in November 2008 as an STS-126 mission specialist aboard space shuttle Endeavour. He has logged 370 days in space over the course of his three missions.
For Kuipers, it was his second trip to the space station and his first long-duration stay, bringing his total time in space to nearly 204 days. He first visited the complex as a Soyuz flight engineer in April 2004.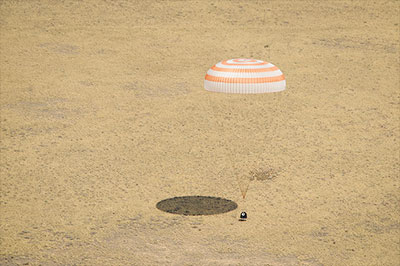 Credit: NASA/Bill Ingalls
Kononenko's, Pettit's and Kuipers's departure from the station, which began with an undocking at 11:48 p.m. CDT Saturday (0448 GMT Sunday), marked the end of Expedition 31 and the start of Expedition 32 under the command of Gennady Padalka, who will remain on the station with Sergei Revin and Joe Acaba until Sept 17.
Three more Expedition 32 crew members, Suni Williams with NASA, Japan Aerospace Exploration Agency (JAXA) astronaut Aki Hoshide and Russian cosmonaut Yuri Malenchenko, are set to launch from the Baikonur Cosmodrome in Kazakhstan aboard their Soyuz TMA-05M spacecraft July 14 and dock to the station on July 17.