An appeal has been launched for people that met Yuri Gagarin, or were inspired by his visit to the UK in July 1961, to share their memories and pictures online. The appeal is part of
YuriGagarin50
, a campaign to celebrate the 50th anniversary of Gagarin's flight in the UK.
Following his historic first human spaceflight on 12th April 1961, Gagarin embarked on a world tour. As a former foundry worker, he was invited to visit Manchester in the UK by the Amalgamated Union of Foundry Workers. The Macmillan Government extended the invitation to London, adding an extra few days to the planned tour. Gagarin visited the UK between Tuesday 11th and Saturday 15th July 1961, visiting Manchester on Wednesday 12th July.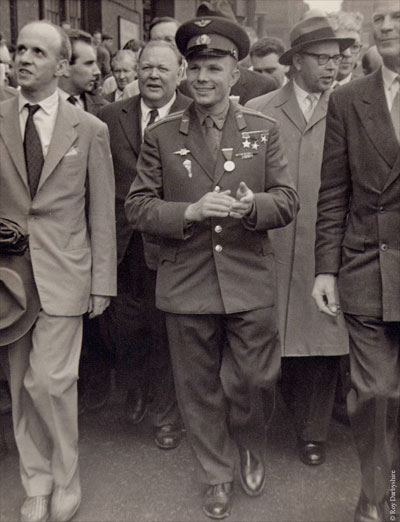 Yuri Gagarin in Manchester Credit: Roy Darbyshire
"Gagarin's flight was an immensely important cultural event, as well as a technological milestone," said Dr Chris Welch, the Chair of YuriGagarin50. "You can see clearly in contemporary footage and images how warmly the British people received Gagarin during his visit to the UK. We know that meeting or seeing Gagarin left a huge impression on many people. We would like very much to hear those stories and find out about the impact that the events of 1961 had on their lives."
Surprisingly, there has not been a definitive timeline published of Gagarin's movements during his visit. YuriGagarin50 hopes that this appeal will fill in some of the gaps.
"There are several wonderful photographs that show Gagarin meeting people during his tour. We would very much like to make contact with some of them - the boy that gate crashed the press conference at the Soviet Exhibition at Earl's Court, the boy who dressed up in a spacesuit to meet Gagarin at Burlington House, the girl who presented Gagarin with flowers on his arrival at the Russian Embassy. It would be fantastic to hear their memories, or the stories that have been passed down through families, and it would also help us pin down exactly what Gagarin did and who he met during those five days," said Dr Welch.
John Zarnecki, Professor of Space Science at the Open University is perhaps the clearest example of someone who was inspired by Gagarin's visit. Aged 11, he was given the day off school to see Gagarin visit Karl Marx's grave in Highgate Cemetery. He later went on to follow a career in space science and was the lead scientist for the Surface Science Package, an instrument carried by the European Space Agency's Huygens probe, which landed on Saturn's moon Titan in January 2005. Huygens holds the record for the most distant landing of man-made object from Earth.
"I really became hooked on space exploration in 1961 after a chance encounter with this man - Yuri Gagarin - the first man in Space and overnight the most famous man on Earth," said Prof Zarnecki.
Memories and photos can be submitted through the YuriGagarin50 website.
The Russian news agency, RIA Novosti, is also looking to track down some of the people photographed with Yuri Gagarin in images from its online archive. The photos can be found by searching with the keyword "YG50" at VisualRian.com.